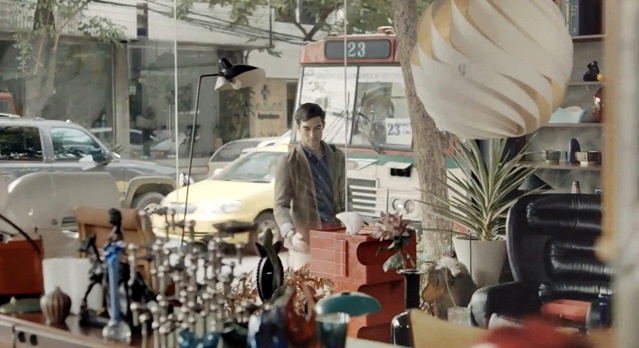 Having lived in Bangkok, Thailand as long as I have (11 years and counting), I'm always happy to see TV commercials filmed in Bangkok as they kind of give a big 'thumbs up' to my city. Weirdly too, I often recognize when a TV commercial is filmed in Bangkok just seconds after it starts as so many things included in the commercial are so iconic.
That was the case today when I saw a recent Canon Pixma commercial pop up at the beginning of a YouTube video I was watching.
Just one second into the video and I immediately knew it must have been filmed in Bangkok as a quintessential red, green and cream Bangkok bus drew up behind the guy in the opening shot.
A couple more seconds in and I was 100 percent certain this Canon Pixma commercial had been filmed in Bangkok as the design of the entire piece was completely 'Thai', from the new modern-style Thai buildings the director shot to the interior of the apartment close to the end of the video. It all looked incredibly 'cool' and superbly modern Thai.
Check the Canon Pixma commercial out in the video below. Well…..I liked it but, then again, I love Bangkok and always enjoy having this amazing city shown off to others.
Production on the video, by the way, was done by The Sweet Shop Asia, which is currently the the most-awarded production company in the Asia Pacific region by The Gunn Report.