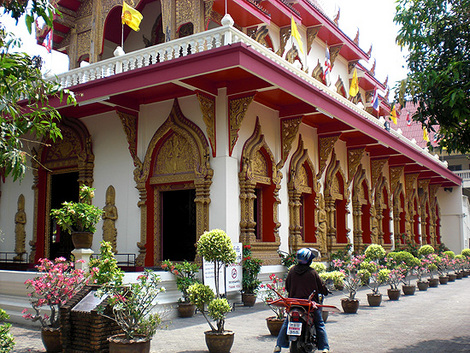 More than 17 million tourists arrive in Thailand each year and, while here, visit the usual tourist destinations. Many of them, though, do not generally think about what a rich history Thailand has and how many places you can visit in Thailand to learn about Thai history and culture.
All over Thailand, there are historical places that would be fascinating to any history buff, if they just knew where to go. If you are a history buff and would like to learn more about Thailand's history, look no further than these fascinating historical places.
Ayutthaya – Just over an hour north of Bangkok is the old Thai capital of Ayutthaya that was burned down by the Burmese more than 350 years ago. Ayutthaya is full of ruined temples, palaces, chedis and shrines.
It is also famous for the place where one of Thailand's most revered heroes, Prince Naresuan, fought a battle against the Burmese and won Thailand's independence.
Ayutthaya is a beautiful place to visit, not only for the incredible history of the area, but also for the present day town, which is fascinating. It's also a UNESCO World Heritage site.
Chiang Mai – Chiang Mai used to be the capital of the Lanna Kingdom, before it was taken over by the Burmese. It won its independence again in the 1700s and eventually became part of Thailand.
It is an incredible city to visit as there are literally hundreds of old temples, old buildings, and chedis to see. Doi Suthep, the temple halfway up a mountain whose site was chosen by an elephant, is one of the most famous historical sites in Chiang Mai, but there are many more.
Chiang Mai also has a National Museum that showcases the history of the area (exhibits here are very nice), as well as a small Tribal Museum, outlining the history of the hill tribes that still live in this area.
Don't forget to visit the old town area, where you can see portions of the old moat and the old city walls built to keep out the Burmese.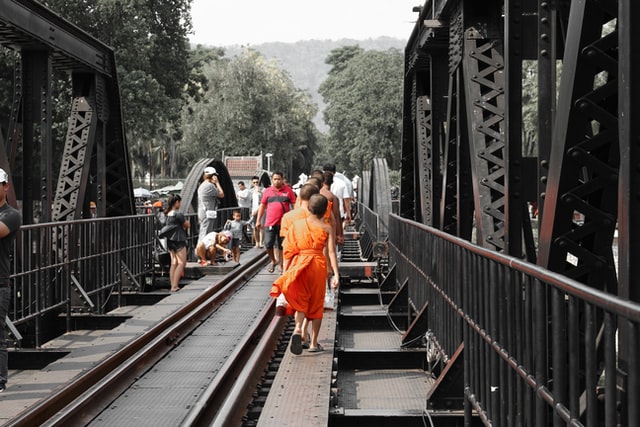 Kanchanaburi – Kanchanaburi is famous for one of Thailand's most recent historical places, the Bridge over the River Kwai. Here you can see the bridge (not the original one, as that was blown up by allied forces during World War II) as well as the cemeteries where the bodies of the thousands of allied soldiers who helped build the bridge and the Death Railway are buried.
The cemeteries are incredibly sad, especially as so many of the soldiers were so young.
There is also a new museum dedicated to the Japanese invasion, the building of the Death Railway and the Bridge over the River Kwai which, although small, has some excellent exhibits. Don't forget to visit the old museum too.
It is a run-down bamboo museum that has faded exhibits and a bit of an odd smell, but it gives you much more of a feel for how the allied soldiers suffered than does the new museum, simply because of the heat and the smell.
Phuket – Phuket history goes back almost 2,000 years and was a famous stopping off point for traders coming from China and India. The Dutch were one of the first Western cultures to come into Phuket when they established a trading post there in the 1700s.
You can still see many of the old buildings in Phuket Town, inspired by Dutch architecture, as well as many old temples and religious shrines. This area was also famous for pirate activity, some information of which you can find in Phuket's National Museum.
Sukhothai – Another of Thailand's old capital cities, Sukhothai National Park is a another UNESCO World Heritage site. The old city of Sukhothai, is about a ten minute drive from the present day city and is surrounded by an old city wall and a moat. For ruined temples, enormous Buddhist statues and old palaces dated back to the 13th century, you cannot beat Sukhothai. Y
ou can also see here the giant stone that was believed to be the first place where the Thai alphabet invented by King Ramkamheang were written down.
These are just a few of the best historical places to visit in Thailand. There are many more. Thailand is full of ruined temples, old Buddhist statues, falling down ruins, and ancient palaces. Once you've visited these Thai cities, venture out and visit the smaller ones.
You will find each town and city has its history and culture – older than anything you will ever see in the United States of America.