According to a news story from the South China Morning Post today, more than 50,000 Russians currently live in Pattaya, Thailand.
Considering Pattaya's last census in 2010 had the city with a population of around 320,262, having 50,000 Russians living in Pattaya is a sizeable number. More than 15 percent of the total population, in fact.
Why do so many Russians live in Pattaya, and how long have some of them lived there?
Not a new phenomena
While many people reading this story may think Russians moving to Pattaya may be a phenomena that has occurred since the fall of the Soviet Union in the 1991, that does not seem to always be the case.
In fact, while the vast majority have been living in the city since the mid-1990s, according to the Pattaya Mail, Russians have been visiting and living in Thailand as early as 200 years ago.
The music for the original Thai anthem (now the Royal anthem) was written by a Russian, the son of Rama V graduated from a Russian military academy and a Russian diplomatic mission was established in Thailand long before 1917.
As Pattaya was founded in the late 1700s then, there is a good chance Russians have been living there or close to there since well before 1991.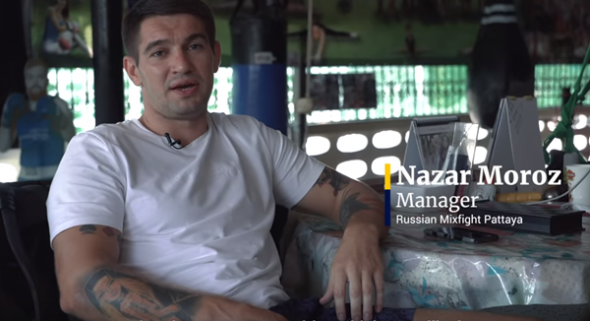 What do some of the 50,000 Russians living in Pattaya do for a living?
The number of Russians moving to Pattaya increased rapidly after the break up of the Soviet Union. Numbers increased even more after Thailand and Russia signed a bilateral agreement making it easier for people from both countries to obtain travel visas.
With so many Russians now living in the beach-side city, what do they do for a living?
Like any other nationality, just about everything.
As the South China Morning Post video shows (see below), a number work in the more than 40 Russian restaurants currently operating in Pattaya.
Others work as boxing instructors, teachers, in the tourist industry, in offices, in one of the 11 Russian Orthodox churches in the city or in their own businesses. In all kinds of areas of work, and often in areas where they felt they had much better opportunities in Thailand than back home in Russia.
Russians also invest quite heavily in real estate all over Thailand, including in Pattaya. This is not just due to the affordable prices, beautiful weather, excellent standard of living and friendly Thais, but because investment opportunities in Russia are often simply not as good.
In that respect, some own property in Pattaya and have simply chosen to retire there.
Interestingly too, only a small minority of them are single. Most are either in relationships, married or married with children.
For more on just a few of the Russians living in Pattaya, watch the South China Morning Post video below. You can also read more about the people profiled in it in an in-depth article on the SCMP's website.
Related: Best things to do in Pattaya, Thailand for families with children