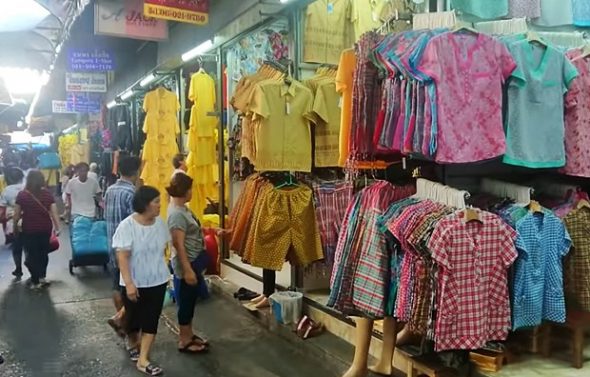 On a shopping trip to Bangkok, if you are looking for the cheapest place in town for wholesale shopping, the best place to go is Bo Bae Market, followed by Bo Bae Tower.
Two of Bangkok's oldest and largest wholesale markets, at both Bo Bae Market and Bo Bae Tower, you'll get dirt cheap prices on so many products, you won't need to shop anywhere else.
Of course, at every Bangkok shopping venue, there are always must-buy things and these five are the ones you shouldn't miss at Bo Bae.
Wholesale Clothing – Bo Bae Market and Bo Bae Tower are both famous in Thailand for the quantity and quality of their wholesale clothing, which comprises about 70% of the markets.
Great buys on wholesale clothing include everything for men, women and children. Look for brand name t shirts at unbelievable prices (often 50 baht ($1.25) each if you buy more than three pieces). Check out designer jeans, gorgeous blouses and dress shirts for women, dress and casual shirts for men, bras and underwear, baby clothing meant for the export market, children's Disney t shirts, and Thai brand t shirts with artwork in cool traditional Asian designs.
Floral patterned skirts are all the rage and can be picked up for 100 baht each ($3.20) if you buy three pieces or more. Or, if surfing or skateboarding is your thing, they have clothing to make you the coolest person at the beach.
Football shirts and jackets are also sold here, at prices 10-20% of what you would pay in Europe or the U.S.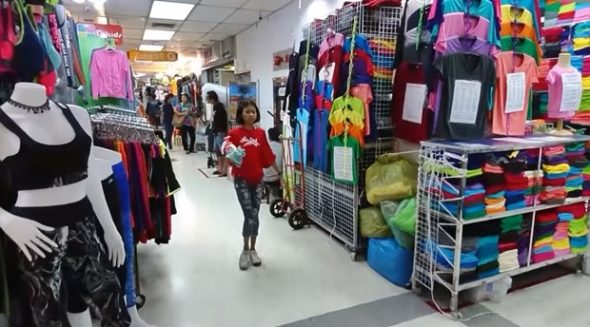 If you are looking for traditional Thai clothing, you'll also find it at Bo Bae Market and Tower. Fisherman pants (those baggy pants you wrap around yourself and tie with a belt at the waist), wrap-around sarongs in gorgeous fabrics, silk off-the-shoulder blouses and the blue shirts you'll see half the rice farmers in Thailand wearing are all available here.
Related reading: What are Thai fisherman pants, and where should you buy them in Bangkok?
Many stalls too sell clothing in bags of a dozen.
So if there's an item you like and either want to take a large number home as gifts, or will be selling them in a shop back home, don't forget to ask the store keeper what the price is per dozen. Even cheaper, of course.
Thai Fabrics and Textiles – Dotted in among the clothing stores, there are a number of fabric and textile merchants. With either fabric on large bolts or already cut and folded into pieces of one meter, two meters or more, if you like to sew or plan on having clothing or household accessories made, you can't get fabric much cheaper in Bangkok than at Bo Bae.
Thai silk, of course, is everywhere, but they also sell hundreds of traditional Thai designs printed onto 100% cotton fabric (be careful, it does shrink so buy a larger amount than you think you might need and have the garment made slightly bigger than needed as, when washed, it will end up smaller).
Also look for the new trend in Thai fabric, pha khao ma, a type of check fabric in muted colors that's making a huge fashion comeback in Bangkok. It's very pretty.
Prices for one meter are as cheap as 20-30 baht (80 cents – $1) and, like anything else, the more you buy the cheaper it gets.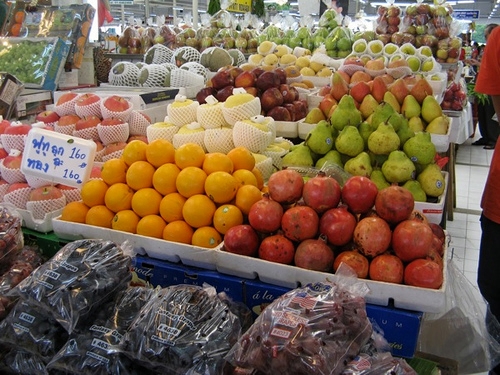 Fruit and Vegetables – In Bo Bae Market itself, as it is mainly an outdoor market, the first stalls to set up every day are the fruit, vegetable and food stalls.
If you want to try superbly fresh Thai fruit and vegetables, you can't go wrong buying them  here. Prices for fruit and veg are cheap all over Thailand but, at Bo Bae, you get larger servings and it always tastes to me like it just fell off the tree.
Muslim Food (Halal Food) – There is a large contingent of Muslim sellers at Bo Bae who not only sell clothing and fabrics, but are also vendors on street food stalls specializing in Muslim food. Of course, much of what they sell is also 'halal', meaning Muslims are allowed to eat it under Islamic law.
The food is incredible – kebabs, curries, rice dishes, kaya balls, spicy sausages on sticks – and, when you can eat a large tasty breakfast for only $1.50, you'd be crazy to miss it .
Fashion/Costume Jewelry – I love buying jewelry in Bangkok as it is cheap. Necklaces for $1, rings for 75 cents, bangles for 50 cents, but at Bo Bae Tower it is even cheaper.
I have bought heavy glass necklaces for only 20 baht (70 cents), (I bought five at a time which knocked the price down 40%), five bangles for 30 baht ($1) and chunky, glass rings at two for 30 baht ($1).
Bo Bae has everything – traditional, funky, lightweight, heavy, for young adults, for teens, for grandma just remember, like everything else the more you buy at the same shop, the cheaper it is.
There are around 800 shops in Bo Bae Tower and a couple hundred more at Bo Bae Market. Bo Bae Market is open in the mornings and starts to wind down about 4pm.
Bo Bae Tower is open all day, but is incredibly busy from 1pm onwards. Try to get there in the morning if you can.
There are several ways to get to Bo Bae but, for someone who doesn't know Bangkok well, the easiest is to take the train to National Stadium BTS sky train station then take a taxi from there to Bo Bae. It's only a five minute drive away.