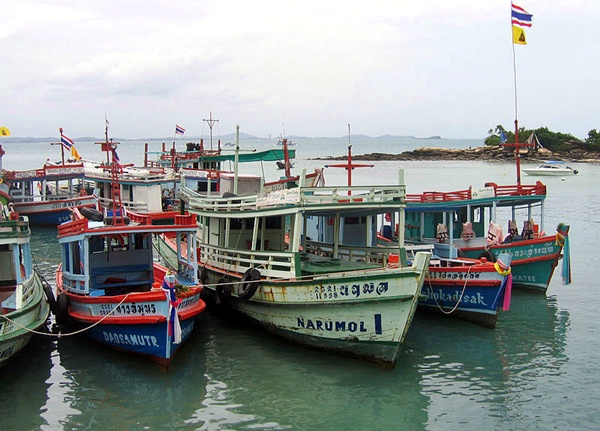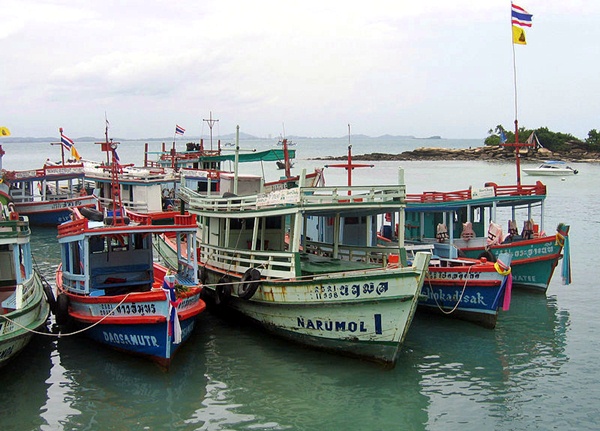 Many travelers to Bangkok, Thailand eventually make their way down to Koh Samet. Koh Samet is an island in the Gulf of Thailand, just three and a half hours from Bangkok and easily accessible by local bus. Some tourists worry about taking local Thai bus service, as they're concerned about reliability and safety. I've taken the bus from Bangkok to Koh Samet several times, and can tell you it's one of the best ways to do it as long as you know what to expect.
Where To Get the Bangkok to Koh Samet Bus – One of the easiest local buses to get on, you can catch the Bangkok to Koh Samet bus at Ekamai Southern Bus Station. To get there, take the sky train from anywhere on the Sukhumvit line and get off at Ekamai station. The bus station is right next to the sky train.
How to Get Tickets on the Koh Samet Bus – Getting a ticket is as simple as going into the bus station itself and, at any of the counters, purchasing a ticket for Ban Phe. Buses run every hour or so, which means if you miss one you don't have long to wait for the next one. Also, check the buses departing the bus station as you arrive as, if the bus to Ban Phe is just leaving, you can wave it down, hop aboard and pay the conductor.
Get Snacks at the Bus Station – If you arrive in plenty of time for the Ban Phe (Koh Samet) bus, you can buy snacks at Ekamai Bus Station. You'll find lots of small stalls selling cookies, cakes, noodles, bread, dried fish snacks and Thai desserts, for dirt cheap prices, as well as coffee and tea stalls, bottled water and soft drinks. Grab a couple of things to consume on the trip as it is three and a half hours to Koh Samet from Bangkok.
What Are the Buses to Koh Samet Like?– Every time I've taken a bus to Koh Samet, they've been a typical Thai coach. Air-conditioned with comfy plush seats, enough leg room and very clean.
Is The Bangkok-Koh Samet Bus Safe and Reliable? – Don't worry. Thailand isn't a country of bandits that wait by the side of the road to hold up local buses. A bus to Koh Samet from Bangkok is just as safe, in that regard, as any bus you would take in any western country. The only way Thai buses tend to be a little less safe as western buses is drivers drive too fast and, sometimes, are not properly licensed.
That means, occasionally, there'll be a bus accident where the speed or driver is at fault. However, when you're talking about maybe one accident a year, and buses to Koh Samet from Bangkok leave approximately 12 times a day, seven days a week, 365 days a year – I'm not going to worry too much about a possible bus accident and I've never experienced one.
As far as reliable, surprisingly, as Thailand isn't always a country known for its good time keeping, buses do leave on time and arrive within a few minutes of the expected arrival time.
What Does Your Ticket Get You? – The fabulous thing about Thailand buses is your fare doesn't just buy you a bus ticket. It also gets you iced wet towels, a bottle of water, sometimes a packet of cookies and at least one movie sometimes two) to watch on the bus' TV system while you travel. The time goes quickly, as you're always kept occupied, three and a half hours passes in no time.
What Is the Cost of a Bus Ticket From Bangkok to Koh Samet – Of course, the price can go up at any time, but has been around the same price for at least the last four years and always less than 150 baht (approximately $5).
What to do When the Bus Arrives in Ban Phe – Don't forget, as Koh Samet is an island, the bus you are taking can only get you to Ban Phe, a small ocean-side town. Once you get off the bus, walk to the pier you'll see from the bus and take the next boat to Ban Phe. They run every 15-30 minutes.
After your Koh Samet vacation, to get back to Bangkok take the boat from Koh Samet back to Ban Phe and catch a bus at the same place you got off the first one. Buy your ticket at the small ticket office nearby. A perfectly safe and reliable way to see Koh Samet.