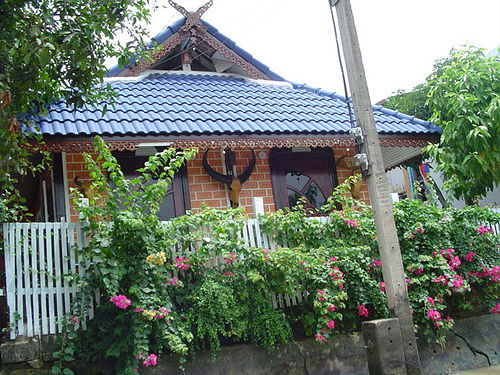 A popular vacation in Thailand, for both tourists and Thais, is to do a Thai home stay. A 'home stay' is exactly as it sounds – you stay in the house of a Thai family, to learn something about Thai society and Thai culture or about the 'real Thailand'.
Many westerners every year come to Thailand on home stay vacations, and some are extremely surprised when they get here and see where they will be staying. If you're thinking about taking a home stay in Thailand, here's what you should expect to experience when you get here.
Where Are Home Stays in Thailand – Most home stays in Thailand are in rural areas or in small towns. The idea of a home stay is to learn about 'real Thailand' and, to many Thais, somewhere like Bangkok isn't what they classify as 'real Thailand'.
You'll find home stays in small towns across the country, in small family homes, in large family homes, even in hill tribe villages, where you'll stay with some of Thailand's hill tribe families. Home stays are only limited to where you want to go and what you want to see.
For Thais, home stays in places like Kanchanaburi and Ayuttayah are popular as well as larger cities like Chiang Mai and smaller towns like Chiang Rai for mountains or beach areas like Krabi and Phuket.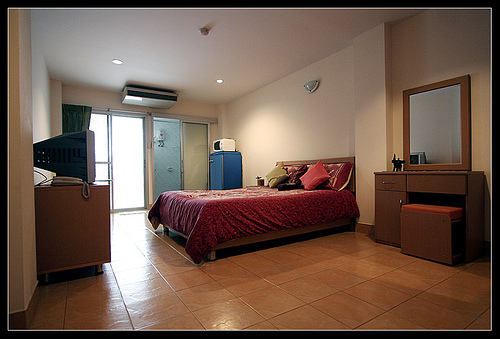 Accommodation in a Home Stay in Thailand – The quality of accommodation on this type of holiday varies wildly. You could end up staying with an upper middle class Thai family who has all the mod-cons, with your own large air-conditioned room, private bathroom and eating at high-end restaurants or at lavish home meals cooked by the maid.
Or, you could end up in a small Thai townhouse, with three of you sharing a room, and trying to get dibs on the bathroom while the Thai dad is getting ready for work and only a fan at night to keep you cool.
Or, if you really like roughing it, a family stay with a rural rice farmer and his family, living on an oyster farm for a few days or with a hilltribe family, could see you staying in a bamboo building on stilts, with sides open to the air and sleeping underneath a mosquito net.
Accommodation in a Thailand home stay is entirely up to what you're looking for. Just make sure you read the descriptions carefully before booking and get answers to questions before you arrive. Otherwise, you might find yourself staring at a mat on the floor of a hut and wondering how on earth you're going to sleep on that for a week. Seriously, it's happened.
What Will You Do on a Home Stay in Thailand – The best ones are where the family or group has some activities planned but where you can also explore on your own. Thais like to do things in big groups, so they don't always understand westerners wanting to do things alone. Make sure, if you plan on doing solo exploring, the family is aware you won't be with them 24 hours a day.
Staying at a home stay with a Thai family is fun though. They'll take you to local restaurants, where only Thais eat, drive you to local Thai tourist spots not always known to westerners, take you trekking, elephant riding or bird watching, fishing or down the river on a boat, cook food for you, introduce you to their friends and families, and basically treat you like one of the family.
Stand Alone Home Stays or Group Home Stays – There are a couple of types of home stay in Thailand. One type are stand-alone home stays, where just one family has decided to take in foreigners on vacation for a few days a month. These are often some of the nicest ones as Thai families overall are gracious and love to show tourists how beautiful Thailand is.
On these types of home stays you'll also likely be the only westerner around, so will have to work a bit harder to communicate and learn. These however can also be more difficult to find, as they tend to be more word of mouth from one Thai family who stayed there to another Thai family who plans on going.
Other home stays are where a village has agreed to be involved in a program and upwards of 20 homes might have tourists staying in them at any one time. These are well organized and are great fun as you'll meet several home stay families, and other tourists from all over the world who don't enjoy the usual hotel travel experience. These will usually have more tours to waterfalls and parks, boat riding, learning a Thai craft or Thai dancing etc.
I prefer the stand-alone home stays, with just one family involved, as to me you learn more about authentic Thai culture than the sanitized, a little 'fake Thai culture' some of the group home stay programs provide. The group programs do have their place though and are popular so which you prefer is entirely up to you as both types are wonderful experiences.
How To Find a Home Stay Program in Thailand – Do a search online as there are many types of programs available (check the sources below for a jumping off point).
The Ministry of Tourism and Sports has also developed certification standards for all aspects of the Thai home stay program, so make sure the home stay you want to do is certified before signing up and paying your money.
The main thing to remember about Thai home stay programs is quality varies wildly. So, make sure it's a certified program, it's in the area you want to be in, it offers activities, and it's not too expensive (paying $100-plus a night for a home stay is not authentic Thailand and you can guarantee it's nothing more than a program put together to get money from tourists).
Remember too, make sure you know exactly where you'll be sleeping and if it's air conditioned accommodation or not, as this can have a huge impact on your enjoyment of your holiday if you really cannot bare extreme heat.
SOURCES:
Home Stay Finders – just some of the many current home stays available in Thailand