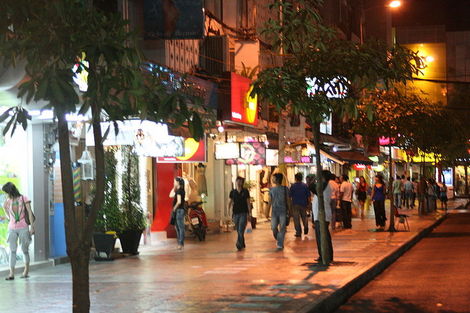 Bangkok, Thailand is a paradise for teenagers who love to shop. With its enormous number of fashionable shops selling cool things at incredibly cheap prices, it's no wonder every teen leaves Bangkok with a lot more stuff than when they got here.
In fact, you can give a teenager $25 to spend in shops in Bangkok and, in most shopping venues they'll come out with bags and bags full of things.
If you're a teenager that will soon be visiting Bangkok or you're the parents of teens who will be traveling with you, there are so many places to shop you'd better plan on bringing a lot of money. Then, start off at these fabulous places. You can't go wrong.
Siam Square – The most popular place in Bangkok for teenagers and young adults is Siam Square. Siam Square is a huge downtown Bangkok shopping 'square' made up of around 10 different streets with alleys running in between each one. Each street and each alley is full of independent boutiques, shops selling jewelry, t shirts, shoes, dresses, independent Thai designer boutiques, skateboarding stores, CD and DVD shops, stores selling video games, as well as cafes, restaurants and drink and snack stalls.
On the weekends, you'll also find outdoor fashion shows, mini concerts and sometimes even TV shows filming around the area. Siam Square is dirt cheap and all the trendy teenagers and university students shop here.
Don't miss going inside all the tiny alleys too as you'll find many of them open out into full scale market malls. There's also a movie theatre, a Hard Rock Cafe, and Chulalongkorn University right at the end of the square. Siam Square is next to Siam sky train station, directly opposite Siam Discovery and Siam Paragon, two of Bangkok's popular malls.
Chatuchak Weekend Market – Open on Friday evenings, Saturdays and Sundays, in the last two or three years Chatuchak has become THE place for teens and young adults to shop. The market has more than 15,000 stalls but there's one specific area with at least 2,000 stalls that's mobbed with teens.
This area is in sections 2 and 3 and is chock-full of independent clothing boutiques, bag stalls, music shops, video game stores, jewelry shops, t shirt shops and loads more. Many of these stalls and stores are run by teenagers and young adults, so they're really hip about the latest fashion trends both Asian and western. Take the sky train to Mo Chit sky train station and follow the enormous crowds.
Platinum Fashion Mall – A wholesale fashion mall, Platinum sells clothing, shoes and fashion accessories particularly for teenagers both boys and girls. The secret at Platinum is, the more items you buy at each stall, the cheaper the price is. So, you might get one t shirt for 100 baht ($3) but three t shirts for only 240 baht ($7).
Platinum has up-to-the-minute trendy clothing, jewelry, bags and cute accessories like headbands, buttons and earrings. Boys will love the skate board and surf t shirts and shorts as well as the cool backpacks and running shoes. Platinum also has some cool cafes and restaurants, great to grab an iced coffee or a snack.
Take the sky train to Ratchathewi sky train station and go north till you hit Petchaburi Road. Turn right and walk about ten minutes until you see Platinum Mall on your right hand side. Of course you can also take a taxi. Just remember Thais pronounce it "Plat-eee-naam'.
Khao San Road – For hippy-style fashion, Khao San Road is the place to go. Loaded with backpackers, it's a bit of a sleazy area but perfectly safe. Teens will find loads of market stalls selling the coolest music CDs (house, rock, alternative, rock, dance, rap etc), jewelry stalls, artists braiding hair and painting henna tattoos, cheap food stalls and food carts, ice cream shops, t shirt places, DVD merchants and lots more. Take the boat to the Phra Ahtit pier, get off and follow the crowds.
Finally, don't miss Mahboonkrong (MBK) Mall (next to the National Stadium sky train station)as it's huge and full of cheap, fun things to buy. Plus, every Friday night, there's a student market on the top floor of Central World Plaza mall, where you can buy clothing, artwork, music etc. created by Thailand's high school and university students.