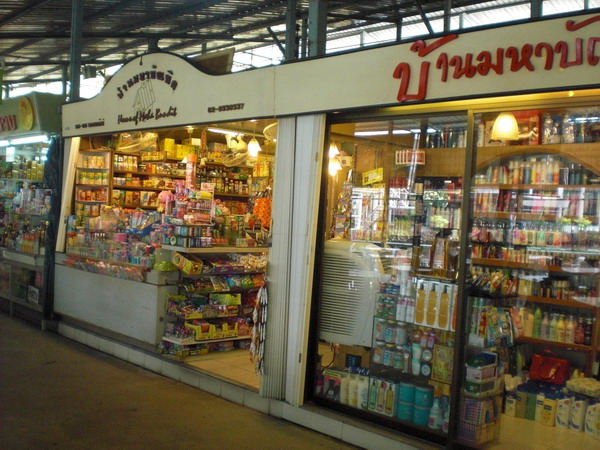 When I lived in the US, I dreaded Christmas. Buying gifts was expensive, and finding something unusual for a price I could afford was often impossible. When I moved to Bangkok, Thailand that all changed as Christmas shopping here is amazing. Unique and beautiful quality products are available everywhere, and at prices most American would not believe. But, like in every city, some places are better than others for Christmas shopping, and these five places are the best of all.
Pratunam Market – A wholesale market in downtown Bangkok, if you're looking for clothing or accessories as Christmas gifts, this is the cheapest place in the city.
At Pratunam, the secret is buying several items at one stall, and then bargaining. If only one piece, something like a Japanese-style yakuza t shirt may cost 200 baht ($6.50) but if, you buy four pieces, the price per t shirt is suddenly as cheap as 120 baht ($4). Items to look for include designer-brand jeans, t shirts, sports shirts, football jerseys, surfer- and skateboarding clothing, skirts, dresses, children's clothing — pretty much any type of clothing imaginable. Much of what's available here is bought for export but, in countries where it's finally sold, expect to pay up to 10 times more.
Take the BTS sky train to Chidlom and take a taxi to Pratunam Market, a five minute (and $1.50) taxi ride.
Chatuchak Weekend Market – The secret to finding cheap but unique items at Chatuchak Weekend Market is to stay away from the tourist stalls. These are the stalls selling typical Thai products like cheap Thai silk, boxes and wallhangings with Buddha images painted on them, paper light fixtures etc.
Instead, shop in Sections 21, 22 and 23 (get a free map when you arrive at Chatuchak at the info desk at the main gate). This is where independent Thai designers sell their wares. You'll find hand-painted t shirts, unique leather bags and wallets, gorgeous hand-stitched belts, hand-painted ornaments and vases, lacquered boxes, handmade candles, tradititional Thai toys — some of the most beautiful things in Chatuchak are sold here, and are perfect for Christmas gifts for just about every member of the family.
To get to Chatuchak, take the MRT underground to Khampaeng Phet station. The exit opens right up into the middle of the market.
Khampaeng Phet's "Idea Market" – While you're at Chatuchak, don't miss checking out "Idea Market" at Khampaeng Phet MRT underground station. It's a small underground market, that's mainly populated by independent designers or vendors who specialize in unique products. Just one small 'street' of cool stores, prices here are cheap and products are lovely.
Last time I was there, I bought two purses made from rice sacks. Bright, colorful pictures were displayed on the front of the bags, which the designer had lined and then converted into a large over-the-shoulder purse. A perfect gift for a daughter or a friend, each bag was only 250 baht ($8.25) and absolutely gorgeous.
Descend the escalator at Khampaeng Phet station from inside Chatuchak Market. At the bottom, walk through the electronic security gate, then take an immediate left turn, right into Idea Market's little street.
Terminal 21 – Bangkok's newest and trendiest upscale mall, if you're Christmas shopping here, avoid the main shops and instead look at the small stores set up in tiny city-style streets. (Every floor of Terminal 21 is designed after a particular city – Rome, Tokyo, San Francisco etc).
You'll see unusual hand-painted t shirts, hand-made jewelry, hand-tooled leather bags and belts, unique mobile phone accessories, teddy bears with hand-made outfits and on and on.
Once you've finished shopping, don't miss eating a meal at Terminal 21's food court. The cheapest food court in Bangkok, as it's targeted to Thais who work in the area, it has tasty Thai food, and gorgeous views out over the city.
Terminal 21 is next to Asok BTS sky train station and Sukhumvit MRT underground station.
Bon Marche – If you don't mind leaving Bangkok's town center, one of the cutest places for cheap shopping and awesome dining is Bon Marche in northern Bangkok. Here, you'll find three two-storey buildings packed with small unique stores, all located around a man-made lake, as well as one of the best food markets in Bangkok. Add in restaurants, cafes and an outdoor food court that's second to none, and it's no wonder this Bon Marche is packed with Christmas shoppers every year.
Look for the store selling bags. It faces the lake and sells all bags for between 200-300 baht ($6.60-$10). There's a store selling unique imported Japanese items, ornament stores, jewelry shops, two charity shops that sell the most gorgeous handmade hilltribe items, handmade soap stores, traditional Thai clothing stores, a stall that sells products exclusively for Thai monks and on and on.
Get to Bon Marche on sky train to Mo Chit station then a taxi to Prachaniwet 1 (Pra-chaa-nee-waayt neung in Thai). Bon Marche is the outdoor market on the left-hand side, heading north from Wat Sam-ee-en Ari (the big Thai temple on the corner of Prachaniwet 1 and the main freeway).