Where To Buy Cheap Good Quality Shoes In Bangkok, Thailand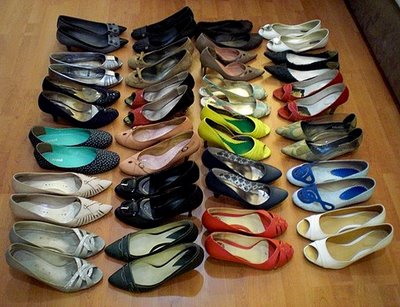 I'm a shopaholic when it comes to shoes, so Bangkok, Thailand is the perfect place for me. Buying cheap shoes in Bangkok is as easy as opening the door and leaving your apartment, as they are  everywhere. The styles are fabulous, you can find every color imaginable (and some you've probably never seen before!) and prices are cheap.
An average pair of shoes in Bangkok is around 150 baht (US $5). Is it any wonder I have over 100 pairs? If you'll be in Bangkok and want to find a great pair of cheap shoes, look no further than these fabulous places for shoe shopping – I guarantee you will find a pair you love.
Street Stalls and Markets – The first place to check for a great pair of cheap shoes in Bangkok is a street stall or a market. Street stalls are on just about every street in Bangkok so you don't have to go anywhere special. If you're looking for stalls with a lot of styles though, try the street stalls that run the length of Sukhumvit Road (in the evening they're all open).
You'll find sandals, full shoes, Thai silk shoes, flip flops, rubber shoes, kids shoes, women's shoes, men's shoes – pretty much anything you could possibly want and all at cheap prices. The stalls on Sukhumvit Road are more expensive than stalls in other areas of Bangkok as they're catering to tourists, but they're still much cheaper than you'd pay in the west for a pair of shoes.
Siam Square – Siam Square is right next to Siam sky train station and is the university area of Bangkok. Of course, because it caters to university students who don't have much money, prices are cheap too. At Siam Square, you'll find hundreds of small shops, many of which sell shoes.
There are also some small indoor shopping arcades with some extremely cool, fashionable shoe shops and at prices you cannot pass up. Buy a cute pair of shoes at one shop, then move onto the shop next door for a cheap skirt or shirt to go with them.
MBK (Mahboonkrong Mall) – Mahboonkrong Mall, known as MBK by the Thais, is one of the cheapest shopping malls in Bangkok and there are many shoe stores here. On the ground floor, you'll find shops selling running shoes, men's and women's shoes, shops where all the shoes are 199 baht and that have hundreds of styles and colors, and shops selling beautiful silk and jeweled Thai flip flops for only 199 baht (US $6.50).
On the first and second floors you'll also find several handmade leather shoe stores, with leather shoes for men and women starting at $10-12 a pair. Knock-off running shoes are also everywhere in MBK if you're into that thing and the quality is good.
Upstairs on the 5th floor, you'll find all the Thai handicraft shops and some of them sell incredibly beautiful Thai flip flops, all handmade.
Central World Plaza, Amarin Plaza, Siam Paragon – At these three upscale shopping malls, if you're looking for designer shoes, here's where you'll find them. Brands like Jimmy Choo, Naturalizer, Nine West, Gucci, Fendi, Ted Baker, Prada, Christian Dior, they're all (and more!) at these three shopping malls. Prices are the same or higher than in the US and Europe though, so you won't find many bargains.
Chatuchak Weekend Market – South east Asia's largest outdoor market with more than 13,000 stalls, Chatuchak has hundreds of shoe stalls selling every style you could want. Prices start as low as 100 baht ($3.25) and go up to 1,500 baht (around $46) for the most gorgeous pair of soft, handmade leather shoes you've ever had the privilege to wear.
Remember, at Chatuchak too, bargain hard as they will come down in price. I buy handmade silk Thai flip flops here (with lovely flowers and jewels around the toes), handstitched fabric hilltribe shoes complete with bells on the buckles, and even handpainted pliimsoles for less than $8 a pair.
Siam Leather Goods – Another of my favorite shoe shops is Siam Leather Goods. They're at River City Shopping Complex and sell the most perfectly made leather shoes, and they do made to order if you want them. Starting at over $100 a pair, they're not cheap, but they are cheap for the quality, which is simply gorgeous.
You'll feel like a million dollars wearing a pair of handmade, handstitched calf skin or crocodile shoes and with prices starting at $200 for a pair of made to measure shoes, it's really not that bad.
There are so many places to buy shoes in Bangkok, you'll be spoiled for choice. Plus, unlike clothing that often doesn't fit westerners in Thailand, shoes fit just about anyone. So, the next time you're shopping in Bangkok, buy yourself a pair (or three!) of shoes – you'll be so happy you did.