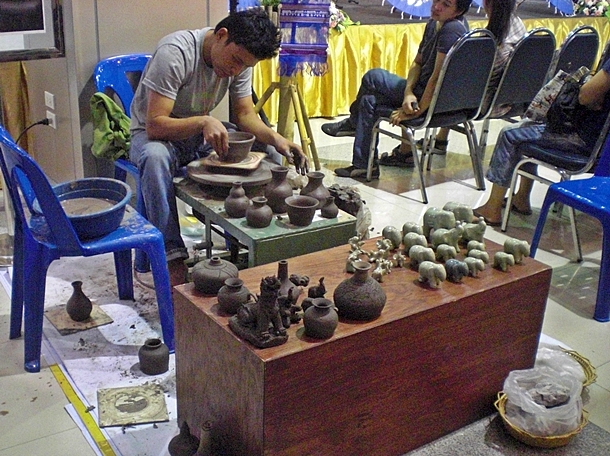 I'm an avid pottery and ceramics collector so, when I moved to Bangkok, Thailand and realized just how much handmade pottery and ceramics is made here, I was in my element.
Now years later, if it is the best place to buy pottery or ceramics in Bangkok, I already know about it. If you too love pottery and ceramics and want to add to your collection, there are no better places for handmade items than at these wonderful places.
Chatuchak Market – Just about the cheapest place in Bangkok for handmade pottery and ceramics is Chatuchak Weekend Market. With more than 15,000 stalls selling everything, there's at least 200 stalls selling pottery and ceramics made in Thailand. Section 17 is the main pottery and ceramics area at Chatuchak, but you will hundreds of other stalls selling it all over the market.
Look for Benjarong, Celadon, blue and white pottery, white pottery, stoneware, porcelain and other handmade Thai ceramics, and at prices as cheap as $1 per piece.
Chatuchak is at the end of the skytrain line at Mo Chit station. Just exit the train and follow the crowd. (Only open Fri evening, Sat and Sun).
Baan Celadon (Celadon House) – Thailand is world-famous for its Celadon, which has been made here for over 700 years. Celadon was originally a green ceramic but, in modern times, has also added blue, beige and red glazes. Green though is still the traditional color and the most popular. You can buy Celadon pottery at Baan Celadon or 'Celadon House' in Bangkok.
Related: Visit Baan Celadon in Chiang Mai, Thailand, but watch this video first 
They have an excellent selection of Celadon pottery of all styles (modern and more traditional), and particularly look at the tableware and mugs – just lovely. Located at 8/3 Ratchadaphisek Rd., Sukhumvit, Bangkok.
Ko Kret – Ko Kret is a small island in the Chao Praya River I first visited with parents of students from one of the school's I worked at. Ko Kret is famous for its handmade pottery and ceramics and, on a visit to the island, you can visit the pottery studios here, watch the artist making them and then buy them in the small studios.
With prices as cheap as $3 for enormous sandstone urns, Ko Kret is not only an unusual place to buy pottery, it's also cheap.
Siamraj Marketing – Siamraj Marketing is a large showroom with three floors of some of the prettiest pieces of ceramics and pottery in Bangkok. Particularly nice selections of Celadon and Benjarong, they also have blue and white pottery, which is extremely inexpensive in Thailand. Don't forget too to check out some of their 'seconds', as half the time, you can't even tell what's wrong with them.
Siamraj Marketing is at 160/4-6 Soi 55 (Thong Lor), Sukhumvit Road, Bangkok
Siam Paragon – Although pricey, Siam Paragon Mall has an absolutely beautiful Thai handicrafts store on the 4th Floor of the mall, Paragon Passage. A huge store selling Thai handicrafts, pottery, ceramics and textiles, you'll find some extremely high-end pieces of Thai pottery here.
Again, pricey, but so unusual you have to take a look. Siam Paragon – next to Siam sky train station
There are thousands of place to buy pottery and ceramics in Bangkok but I still think these are some of the best.