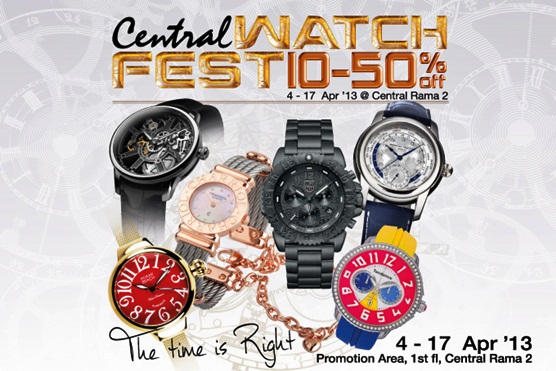 The problem with shopping for inexpensive watches in Bangkok, Thailand is that many of them are cheap knock-offs of designer watches. They look nice but they certainly don't last for very long. That's why, if you're looking for an inexpensive authentic designer watch, the best place to shop this month is at the Central Watch Fest 2013 where specific designer watches are 10-50 percent off.
The watch sale is at the Central Rama 2 location on Rama 2 Road in Bangkok, sale prices are applicable only on specific designer brands and particular watches, and runs from April 4th to April 13th, 2013.
Remember too, if you use your 1 Card when purchasing, you'll also be given extra points. A watch sale that's well worth checking out, I'd say.
Of course, if you don't want to shop at Central, fearing department store prices might be too high, read our article on where do Thais shop for more ideas.