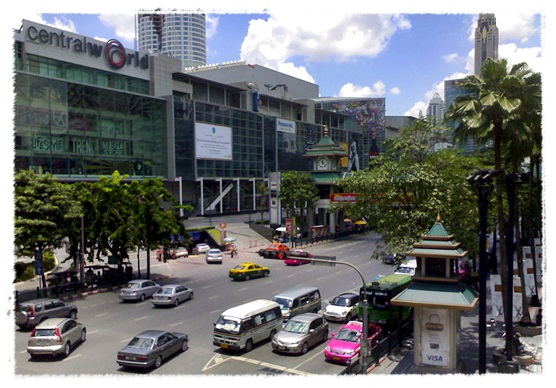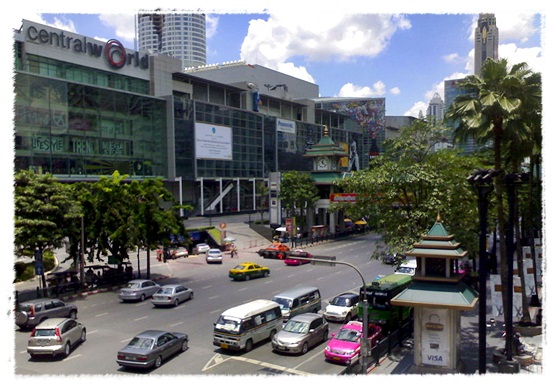 For any shopaholic in Bangkok, Thailand the place to shop is Ratchprasong. Infamous last year for the 3-month long occupation by anti-government protesters, the Ratchprasong intersection is actually the best place to shop in Bangkok.
You'll find Ratchprasong at the intersection of Ploenchit, Rama I and Ratchadamri roads, and you'll easily know when you've arrived as it's packed with mega malls, department stores and independent shops. In fact, anyone who loves shopping will think they've died and gone to heaven when they first arrive at Ratchprasong.
Central World Plaza – Of course, the first place any die-hard shopper goes in Ratchprasong is Central World Plaza. Currently the third largest shopping mall in the world (yes, you read that correctly), Central World Plaza is absolutely massive. Filled with more than 600 stores, restaurants, cafes and independent booths, Central World Plaza is the most popular shopping mall in Thailand and, on weekends, just about the busiest place in Bangkok.
At Central World Plaza, you'll find everything from high-end luxury designer shops to independent Thai boutiques. Clothing, shoes, accessories, bags, children's clothing, toys, books, electronics, cell phones, computers – everything is available at Central World. Look for The Gap, Zara, Esprit, Topman, Samsonite, Timberland, Kate Spade, Calvin Klein, Kinokuniya, Asia Books, Toys R Us and lots more.
Don't miss the mall's two enormous food courts as well as the more than 100 restaurants and cafes. Plus, when you've finished retail shopping, check out the exhibits, fashion shows, art displays, handicraft exhibits and more, spread out all over the mall's open areas and, of course, the world-class movie theater and bowling alley on the top floor.
Gaysorn Plaza – Bangkok's most luxurious mall, Gaysorn Plaza is across the street from Central World Plaza, right on the corner of the Ratchprasong intersection. This mall is much calmer than Central World Plaza with far fewer shoppers (that's what happens when everything they sell is high-end luxury goods), but it's a wonderful place to browse the numerous designer shops or grab a coffee or lunch at one of the upscale cafes or restaurants.
If you're one of the lucky wealthy shoppers Bangkok is attracting, be sure not to miss Gaysorn Plaza's personal shopper service. It's reputedly one of Thailand's best.
Amarin Plaza – An older mall that's been going through various incarnations in the last few years, Amarin Plaza is less hectic than Central World Plaza but no less fun. Full of more traditional style Thai shops, here you'll find silk and fabric shops, knitting and sewing supply stores, antique shops, a large Thai handicrafts store, tailors, music and language schools, and a lovely indoor market with excellent prices.
A large food court opened on the top floor just a couple of years ago, so don't miss its traditional cheap Thai food and, with its windows overlooking the main street, it's fun to sit here and people watch too.
Central Chidlom – The largest Central department store in Thailand, Central Chidlom is particularly popular with Thais, so you'll get the real middle-class Thai experience here.
An enormous department store with eight floors, Central Chidlom sells everything from clothing, shoes and accessories to sporting goods, electronics, books and toys.
Central Chidlom is especially popular for its large B2S book store, the ground-floor Starbucks with its massive windows overlooking the main street and Central Chidlom's seventh floor Food Loft, serving a mix of international cuisine.
Ratchprasong is a lovely area of Bangkok and a great place to shop at when it's raining, as you can travel from shopping center to shopping mall via Ratchprasong's large covered skywalk system, without ever having to hit the street level.
You can find out a lot more about the Ratchprasong area of Bangkok by visiting the Rachprasong business district's website. Here you'll find tons of information about malls, shops, restaurants, businesses and shrines in the area, as well as where to stay and what to do.