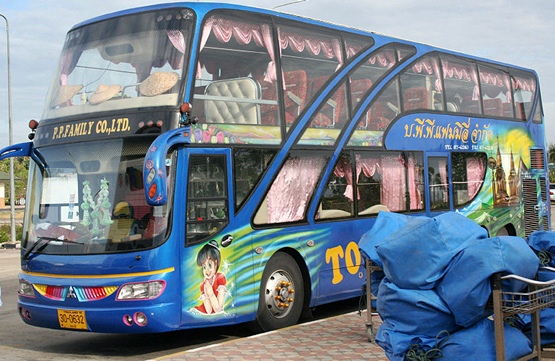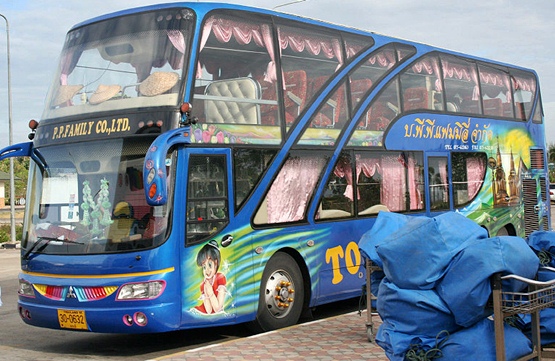 Thailand is known worldwide as a dangerous place if you want to ride a bus, but that reputation worsened even further today as 13 Thai schoolchildren from Nakhon Ratchasima were killed in a bus crash in Prachin Buri. Two teachers also died as a result of the crash. Forty other people, mostly children, were injured, some seriously. All the students killed were girls, as the boys were on a second bus that was not involved in the crash.
According to the Thai news media, the bus crash happened early Friday morning when a tour bus packed with school children between the ages of 10 and 15 and their teachers was involved in an accident while on the way to Pattaya on a field trip. Eleven people were killed immediately, four others died soon afterwards at a hospital in Prachin Buri.
There's no concrete word yet on the cause of the Prachin Buri bus crash, but Thai news media says the driver, who survived, was driving the bus downhill when he crashed into the back of an 18-wheel truck-trailer in front of him.
The bus then veered off the road and hit several trees ejecting many of the children from the now-open side of the bus.
As the accident happened around 4:30am, some Thai media is speculating the driver could have fallen asleep at the wheel and lost control of the bus. Thai police, on the other hand, are saying faulty brakes could also have been to blame, although until the brakes are actually tested they can't say that for certain.
As per usual in bus crashes in Thailand, the bus driver fled the scene of the accident and police are now trying to find him.
Sadly, this isn't the first major bus crash in Thailand this year and it certainly won't be the last. Thousands of people are killed in Thailand every year after being involved in bus or van crashes and, yes, some of them are children.
Unfortunately, no matter which Thai government is currently in office, little seems to be done about road safety in Thailand, even though the country has one of the world's worst reputations for road safety.
You'd also think more Thais would be concerned about road safety in Thailand, particularly as so many children and young people are killed on Thai roads every year.
Those who do have a decent education and/or power in Thailand, however, seem to want to spend their time trying to evict a democratically-elected prime minister and to destroy Thailand's economy and reputation rather than doing something like improving road safety in Thailand — something that could actually help the country and save yet more Thai children from needlessly dying.
Shame.