One thing many visitors to Bangkok, Thailand love to do is get Thai beauty treatments. There are so many beauty treatments in Bangkok, it's often hard to choose the best ones and, as Thais are famous for their beauty treatments, you can guarantee they are all pretty amazing. If you are planning on getting beauty treatments in Bangkok, why not spend a whole day doing it?
Treat yourself to some of Bangkok's best beauty treatments, and here's where to go to get them.
10:00 am – Get a Facial Treatment in Bangkok – I am addicted to facials in Thailand and get them all the time. With thousands of places to get facials, I still love the facials at MBK Mall. There are at least 30 salons that offer facials in MBK with prices ranging from 300 baht up to 1,000 baht.
I have tried everything from the lower end 300 baht facials to the higher-end Japanese-style facials, and they all have something to offer. I would recommend an hour's facial at one of the lower-end Thai salons, just to try them out as you can always move up to to a more expensive or more luxurious one another day. Even the lower-end ones though leave you feeling pampered and special.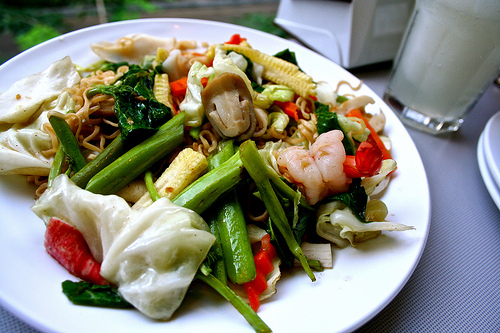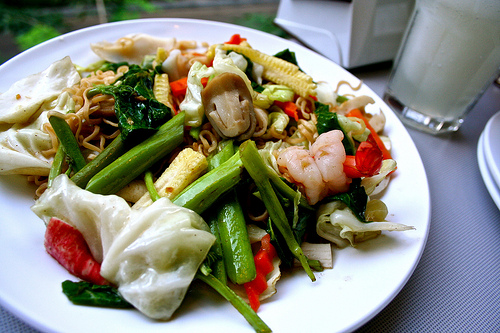 11:30 a m – Take a Break for Lunch at the MBK food court – As you are doing a day of pampering and beauty treatments, continue to treat your body like a temple by eating a vegan meal at the MBK food court.
The MBK food court is on the top floor of the mall (the floor below the movie theater), and has several stalls serving vegetarian or vegan food. Try the baked pumpkin, morning glory, and red/brown rice. Delicious, and so healthy.
Related: MBK food court is one of the best and cheapest in Bangkok
1:00 pm – Rainbow Arokayal Holistic Spa – If you want to try something unique and unusual, you have to go to Rainbow Arokayal Holistic Spa and have a Chi Sand Therapy session. You lie down and are then covered in red volcanic mineral stones imported from Japan.
It is an infrared heat treatment that not only makes every muscle in your body feel like jello, you are so relaxed, but it also pulls all the toxins out of your body, helps with your cardiovascular system and even burns calories. And, boy, do they pamper you here.
Rainbow Arokayal Holistic Spa is at 80 (Soi Saeng Ngoen) Soi Thonglor 25, Sukhumvit 55 Rd., Khlong Tan Nuea, Vadhana, Bangkok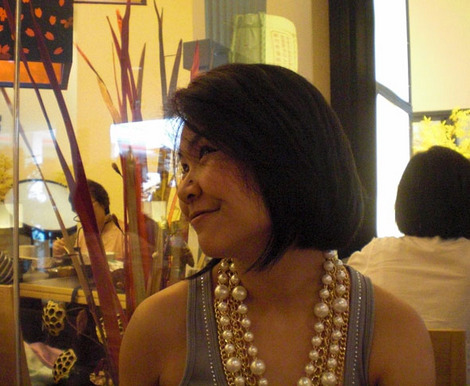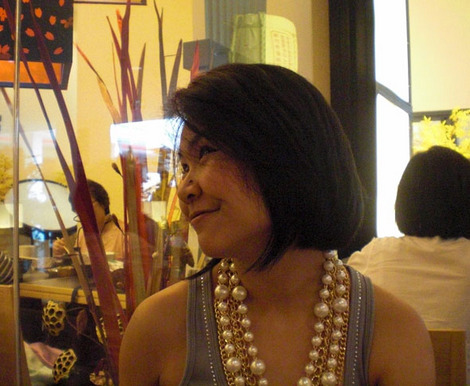 4:00 pm – Get a Haircut in Bangkok – My favorite beauty treatment in Bangkok is getting a haircut. Thai hairdressers are easily the best hairdressers I have ever had and, with more than 100 haircuts in Thailand, I have never had a bad one. Try a hairdresser in MBK Mall, Siam Square or Central Ladprao. With an average price of 200-250 baht ($5.60-$6.75) for a haircut, wash and blow dry, you can't go wrong.
Plus, in every hair salon in Bangkok, you get a free head massage, coffee, tea or water and a lot of personal attention.
5:30 pm – Have a Manicure and Pedicure in Bangkok – Continuing on with your day of beauty treatments in Bangkok, you can't miss a manicure/pedicure. Thais manicurists are experts at this art, in fact you will be amazed at how fast they are and how gorgeous your nails look afterwards.
A simple manicure and pedicure at most salons in Bangkok is as little as 400 baht for both and, in less than an hour, you will leave the salon with perfect fingers and toes.
Try a salon at MBK Mall, Siam Center, Siam Square or, for something more upscale, either Siam Paragon or Central World Plaza.
8:00 pm – A Traditional Thai Massage From a Famous Wat Pho Masseuse – Thailand is famous for traditional massages and, if you have never had one, you must. The best massages in Thailand are at Wat Pho, the enormous Thai temple in central Bangkok. You can get a massage at the temple, but the best way to have one is to arrange for a masseuse from Wat Pho to come to your hotel room.
At around $50-$60 for an hour and a half massage, you will never have felt better in your life by the time the massage is over. Your hotel reception desk will be able to arrange this for you, if you are so inclined.
Related: What to expect when getting a traditional Thai massage and how much do they cost?
A full day of beauty treatments in Bangkok will leave you relaxed, healthier, more beautiful and possibly even thinner too. Thailand is world-famous for its beauty treatments and it is for an obvious reason.
They are exotic, make you feel like a million dollars but they don't cost the earth. So have a full day of beauty treatments in Bangkok – and you'll thank me. Honestly.
Related: Best healthy, low-calorie snacks in Thailand