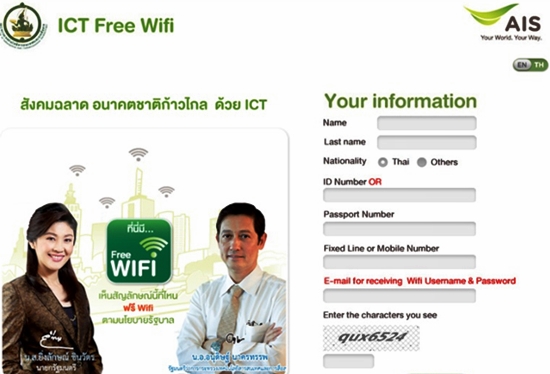 Good news today for those of us in Thailand who use the internet a lot. The telephone company AIS and the Ministry of Information and Communication Technology (MICT) have banded together to offer free Wi-Fi for anyone in Thailand who wants it and, YES, that includes foreigners. (I've put a big "YES" there, as normally whenever anything to do with the internet in Thailand is offered for free, it rarely includes non-Thais in the deal). The project is called "ICT Free Wi-fi" and will be available nationwide at more than 50,000 Wi-Fi hotspots starting this week.
Of course, there's a small catch. The ICT Free Wi-Fi program only includes 5 hours of internet access a month (5 hours a week would have been nicer), but it's a start, especially for those people who can't afford to pay for monthly internet access.
You can get access to the free Wi-Fi through AIS and the MICT with a one-time registration at the AIS/MICT Free Wifi website. You just have to fill in your name, passport number (or ID number if you're Thai), telephone number and email address. They will then e-mail you a username and password that will get you internet access for five hours a month.
There's no word yet, however, as to whether you have to repeat the process every month, or if that same username and password will work monthly. Guess we'll find out as time goes by.
For casual net surfers, though, or those who want to quickly get online while bopping around Bangkok, Chiang Mai or Phuket, having a way to get free Wi-Fi at so many places through the ICT Free Wi-Fi program could be very nice. It's also sweet that they included Non-Thais in the program.
Thanks AIS and the MICT – we internet-obsessed foreigners love you.