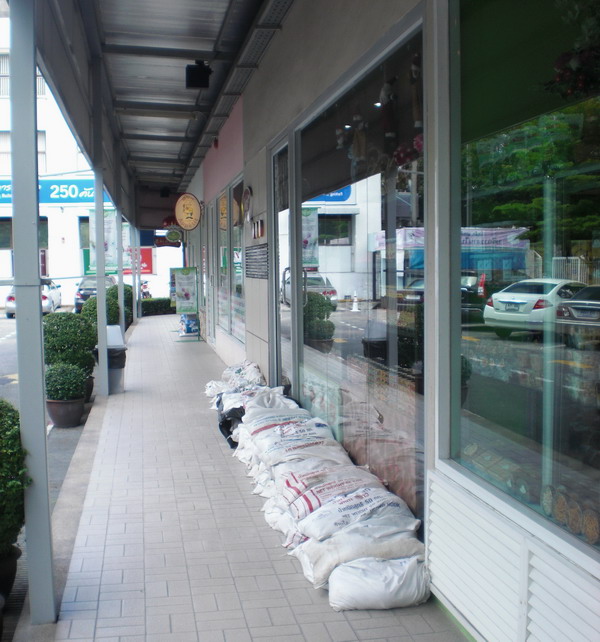 THURSDAY – 9:15 am – October27th, 2011 – Bangkok
Don't believe all the shock headlines on websites all over Thailand. When you read "BREAKING NEWS: All 50 Districts in Bangkok Going to Flood", it's not true. Just an irresponsible website owner trying to get page views.
The reality of the situation on Bangkok's flooding is that it hasn't changed much in most districts in the last 24 hours. There has also not been any announcement from the Thai government, or any flood authority, that all 50 districts in Bangkok will flood significantly.
What has been said by the Froc director, (Flood Relief Operations Center) is that, if three major flood barriers don't hold up, there could be significant flooding.
But, if the flood barriers hold (and there is no indication yet that they will not), flooding in most areas will be relatively minor (30 centimeters (about 1 foot) with a few areas seeing up to 1 meter (just over 3 feet).
Remember, one foot is about normal in a heavy rain in Bangkok and easy to navigate both in cars and on foot.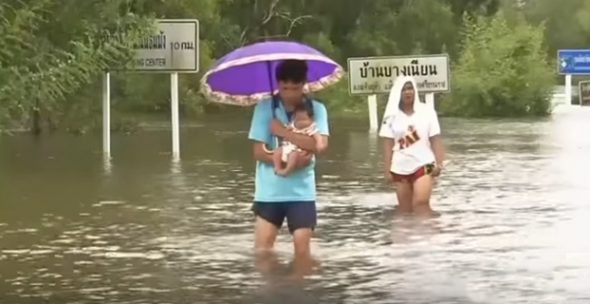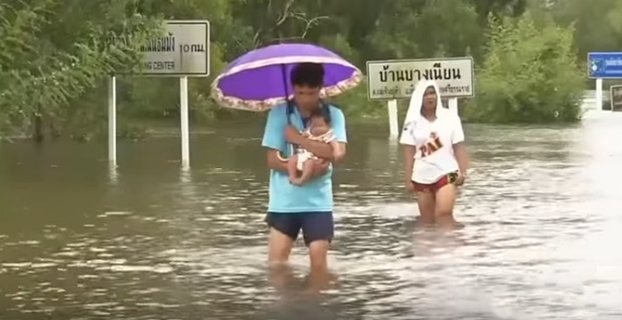 What will likely happen most Thais are predicting, other than the immediate downtown area – Sukhumvit, Siam Square, Silom etc, which isn't likely to see much water, many areas of Bangkok will see some flooding, but in most areas it won't be higher than ankle to mid-calf deep.
Just like in rainy season, that means you can wade in it and get around.
Many businesses and shopping malls will still be open. Public transportation will lessen but will still operate. The sky train will still be in business. Electricity and water supplies will be stable.
As for the current situation, the flooding situation at Don Mueang hasn't improved, and the run-off water now on Vibhavadi Road is higher in Laksi than it was yesterday.
Flood evacuation orders have been issued for Don Mueang district and Bang Phlad, both of which are mostly under 1-2 meters of water. However, if you are in a high-rise building with plenty of water and food, it is up to you whether you sit it out or not.
Just be aware, water levels could be as high as 1-2 meters for a week or more.
Meanwhile, two other areas are also being watched — Ladprao and Wang Thong Lang.
If waters continue to flow as they are doing, latest news says the flood waters will reach the Kaset Sart area by early morning on Friday, and the Ladprao-Vibhavadi intersection by sometime later in the day on Friday.
Most Thais are not panicking about this situation. Only foreigners.
One of our Thai readers was in northern Bangkok yesterday on Prachaniwet 1, and spoke to many Thais who live in all areas of northern Bangkok. He said nobody was panicking.
The comment from almost everyone was "Nam tuam, maa, bpai". "The floods come, the floods go".
For extremely reliable and accurate reporting about the flood situation, follow Richard Barrow's Twitter account.
He is a British man who has lived in Thailand for years and only reports verifiable, accurate information. He is updating his Twitter account once every few minutes for most of the day.
At Tasty Thailand, we will also update you on the flood situation in Bangkok regularly, but will not post until the information we have is verifiable. We don't believe in shock headlines that cause panic just to get page views.
Pity more western website owners don't think the same. Shame on them.