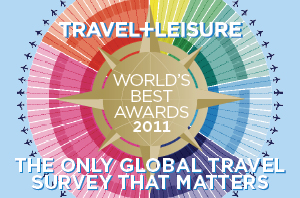 The results of Travel + Leisure magazine's 16th annual World's Best Awards readers' poll are out and, for the second year in a row and the third year overall, Bangkok  has been named as the World's Best City. The Mandarin Oriental Hotel in Bangkok was named the Top City Hotel in Asia.
Bangkok received a total score of 90.49, with second place Florence at 89.92 and Rome at 88.45.
Hotels in Thailand that were placed on the Top 100 Hotels Overall list include the Mandarin Oriental Dhara Devi in Chiang Mai and The Peninsula in Bangkok, which ranked at number 7 and number 40. The Four Seasons Resort in Chiang Mai ranked number 48.
Excellent news for Thailand, particularly after a year of political unrest and high inflation.
Full results will be printed in the August issue of Travel + Leisure, available on newstands on August 1st.