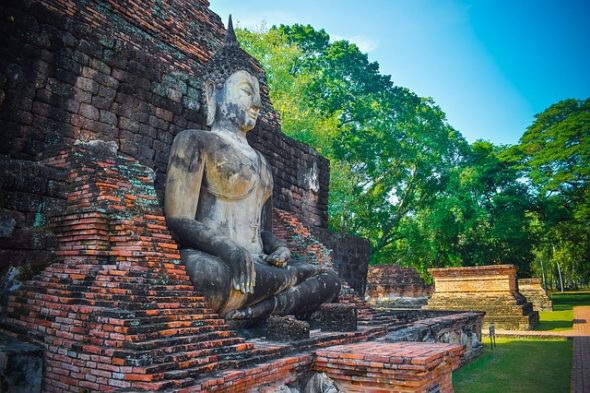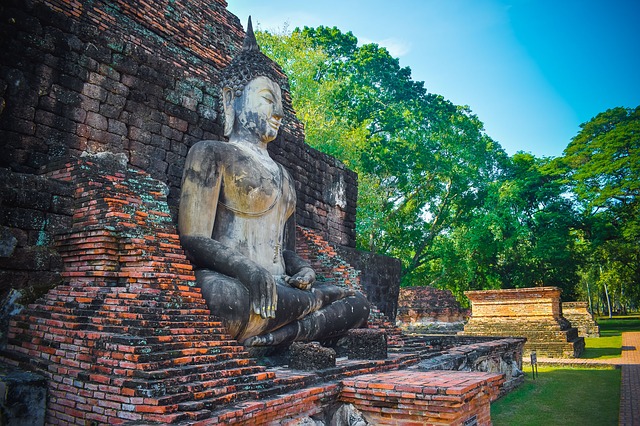 Sukhothai, once the first capital city of Thailand, or Siam as the country was called then, is now a top tourist destination. Nowadays, Sukhothai is a UNESCO World Heritage site, visited by several million people every year and is known as one of the 'seats of Thai history'. A popular destination for budget travelers, due to its many budget hotels, if you want to see Sukhothai on the cheap, then these top three best budget hotels will help.
Sila Resort – One of the cutest and most fun budget hotels in Sukhothai, Sila Resort is a family-run hotel that offers traditional Thai style resort houses, guest rooms and modern bungalows, all for a cheap cheap price. Located right on the river, just a couple of minutes by tuk-tuk to the center of Sukhothai, it's one of the best and most popular budget hotels in Sukhothai.
Each of Sila Resort's guest bungalows and guest rooms has an en suite or shared bath, twin or double beds, air conditioning, Wi-Fi internet, and is decorated in traditional Thai style. Thai-style bungalows are made out of wood and are built up on stilts, just like they have been in Thailand for centuries. Rooms are spotlessly clean and well taken care of.
Sila Resort also has a small restaurant, serving home-cooked Thai meals and is a lovely place to eat in the evening overlooking the garden and the river.
Room rates are truly budget price, beginning at only 400 baht ($13) for a single room.
Ananda Museum Gallery Hotel – The Ananda Museum Gallery Hotel is a Sukhothai five-star boutique hotel that offers budget hotel prices (less than $50 a night). It's situated just a couple of kilometers outside of town, in a lovely country area but close to the town center as well as only a few kilometers from the Sukhothai UNESCO World Heritage site. The hotel is decorated in traditional Sukhothai style, with an emphasis on comfort and relaxation.
At Ananda Museum Gallery Hotel, guest rooms are spacious and feature en suite bath, satellite TV, Wi-Fi internet, a mini bar, refrigerator, tea and coffee making facilities and in-room safe.
The hotel's gorgeous Celadon restaurant (named after the world-famous Celadon pottery) serves both Thai and international cuisine and is a lovely place for a romantic dinner, and don't miss getting a traditional
Thai massage at the hotel's spa.
Room rates include Thai or Continental breakfast and begin at $48 a night if you book on a hotel booking site (do not book on the Ananada Museum Gallery Hotel's site – prices are almost double).
Athome Guesthouse – If you're looking for a friendly, typical Thai, authentic guest house, then Athome Guesthouse is sure to please. They classify themselves as a 'boutique budget travel hotel for backpackers and budget travelers' and boutique it certainly is. It's lovely.
Athome Guesthouse is a family-run budget hotel and is actually situated in the family home the owners were brought up in. A traditional wooden Thai house on stilts, Athome Guesthouse has 11 guest rooms, all spotlessly clean and comfortable. The owners too have spent considerable time adding personal touches like flowers, lovely artwork and pretty decorative touches, to make you really feel at home.
The hotel has a gorgeous garden, high-speed Wi-Fi internet, a small restaurant serving delicious Thai food and bicycle rental if you want to easily tour Sukhothai by yourself. They'll also make arrangements to pick you up at the airport or bus station if you let them know in advance.
More Information: