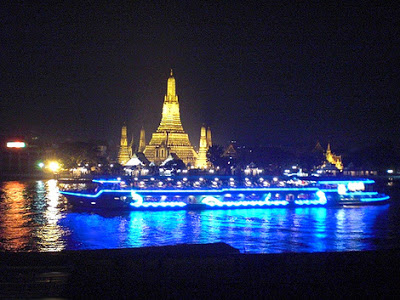 Bangkok, Thailand is famous for the Chao Praya River that runs through the city. Tourists love to take boats on the Chao Praya and no more so than in the evening, when dinner cruises go up and down the river offering an evening of music, entertainment and incredible food.
With many Chao Praya River dinner cruises to choose from, choosing the best one can be difficult. Not if you take one of these wonderful Chao Praya River dinner cruises.
Loy Nava Dinner Cruise – Loy Nava holds dinner cruises every evening on antique teak wood rice barges These barges were hand-carved and consist of rare polished teak wood, teak carvings, a bamboo roof and are covered in fresh flowers.
The dinner cruise goes up and down the Chao Praya, passing such sights as the Temple of the Dawn and The Grand Palace. Dinner consists of authentic Thai food from every corner of the kingdom, as well as traditional Thai desserts, fresh fruit, wine and coffee.
Cruises are every evening either at 6pm or 8:10pm. Check out Loy Nava's website as, if you book online, you'll receive a 20% discount on the price of each ticket.
Shangri-La Horizon II Dinner Cruise – Another spectacular Chao Praya River dinner cruise is aboard the Horizon II. This cruise is stunning as it's put on by the five star Shangri-La Hotel, one of Thailand's finest hotels and world famous for its hospitality.
On the Shangri-La Horizon II Dinner Cruise, you will take the hotel's private river boat and spend several hours on the Chao Praya River, while enjoying an enormous buffet of Thai, Asian and international cuisine.
The cruise begins at 7:30pm and ends at 9:30pm. Dinner cruises run every evening and the dress is casual. Call the hotel at (66 2) 236 7777 for more information.
Manohra Dinner Cruise – You know the Manohra Dinner Cruise is amazing when you read their website. Beautifully designed, as it shows the attention to detail you'll find on an evening on the Chao Praya River. They too have 50-year old restored rice barges, which offer either dinner cruises or evening cocktail cruises, if you'd rather eat elsewhere.
On the boat, there are several set Thai menus to choose from, but all include appetizers, entrees, dessert and coffee. All food is served medium Thai-spicy, so should be manageable for most tastes. They'll also modify food if you inform them in advance of any special requirements.
For the cocktail cruise, it's an hour's cruise that includes a couple of drinks and light snacks. Call (66) 2 477 0770 for more information and don't forget to check out their lovely website.
The Grand Pearl Dinner Cruise – More a luxury cruise, the Grand Pearl Dinner Cruise is a much larger boat than the other dinner cruise boats. Dinner is a large Thai and international cuisine buffet including fresh seafood and, while you eat, you can listen to live jazz music as well as see a traditional Thai Khon (masked) play.
Photographs are also taken of you on the cruise, so you have a memento when you leave. The cruise begins at 7:15pm and ends at 9:30pm. Contact (66) 2 476 5207 for more information.