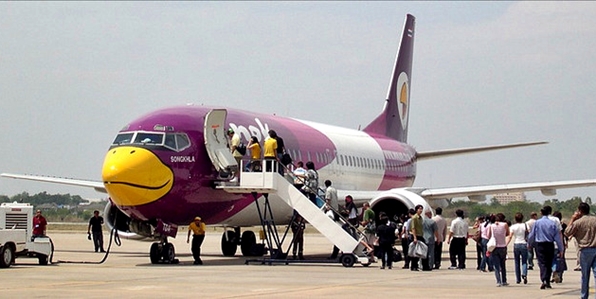 Chiang Mai is the second most popular tourist destination in Thailand and one of my favorite places to visit. Not only do millions of non-Thai tourists fly from Bangkok to Chiang Mai every year, but millions of Thai visitors take the same flights as well. That's why if you're considering a stay in one of the most beautiful cities in Thailand, you may want to read up on the best cheap airlines to fly from Bangkok to Chiang Mai in 2014, so your journey there is as easy, cheap and comfortable as it can be.
Air Asia – Air Asia is south east Asia's most frequently used budget airline as well as the one many people recommend you take if you're looking for a flight from Bangkok to Chiang Mai. In the years I've lived in Thailand, I've flown from Bangkok to Chiang Mai on Air Asia over 30 times and never had a problem with any flight..
Sure, their flights don't always leave on time and I have spent several hours delayed in Chiang Mai Airport on the way back but, for the inexpensive price they charge, for the superb on-board service, clean planes and safe flights, I recommend Thai Air Asia as one of the best airlines to fly.
Air Asia now flies from Don Mueang Airport in Bangkok to Chiang Mai at least seven times every day. Flights currently start at 890 baht or $30 one-way, exclusive of tax and surcharges, with an average round-trip flight from Bangkok to Chiang Mai including tax and fees at betweem $100 and $130. To say the cost of the flight has not increased since I first began taking them eight years ago, it's obvious what a good deal Air Asia offers. You can book all flights on Air Asia's website or at Air Asia's ticket booths all over Bangkok.
Nok Air – Nok Air is another excellent Thai airline that flies from Bangkok to Chiang Mai. Like Air Asia, they fly from Don Mueang, Bangkok's domestic airport in the north of the city, and their flights are cheap. I've flown Nok Air from Bangkok to Chiang Mai four times and enjoyed every flight. 'Nok', by the way, means 'bird' in Thai.
As for service with Nok Air, their flight attendants are friendly and helpful, unlike Air Asia their flights normally leave on time and, price-wise, they compete very well with similar budget airlines.
Nok Air has seven flghts daily from Bangkok to Chiang Mai, with the first flight at 7am and the last one leaving at 7:05pm. Prices are consistently between 3,000 t0 3,800 baht round-trip or approxiimately $94 to $118, with taxes and surcharges on top. You also get free snacks on board, unlike Air Asia where you have to pay.
You can find out more about Nok Air flights from Bangkok to Chiang Mai and book all your flights at their excellent website. Do be aware, they often run sales on flights so, if you don't like the price you're being offered, keep checking back as it easily could change.
Bangkok Air – The third popular budget airline in Thailand is Bangkok Air. It is also one of the few budget airlines that still flies out of Suvarnabhumi Airport as many of the others have moved in the last year to Don Mueang, Bangkok's domestic airport.
What's great about this, though, is if you're flying into Thailand from elsewhere and then going directly to Chiang Mai, there isn't any need to change airports if you fly with Bangkok Air.
Bangkok Air's flights from Bangkok to Chiang Mai are also reasonable, although not usually as cheap as either Air Asia or Nok Air. Like the other two airlines, they have seven flights from Bangkok to Chiang Mai, with their earliest flight departing at 8:05am.
Air fares are consistently between 3,580 baht to over 4,300 baht ($111 to $140) plus applicable surcharges and taxes.
You can check prices and book flights on the Bangkok Air website. Do be sure to look for sales they might be running first, however, as if you're willing to take earlier or later flights on particular days, you can often save yourself $30 or more on each flight.