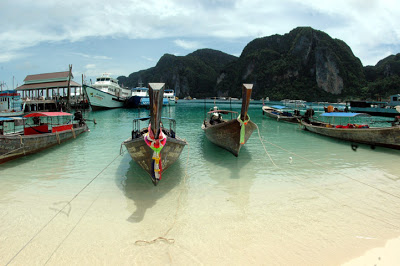 Once upon a time, Koh Phi Phi or Phi Phi Island was just a small, beautiful Thai island few people knew about. Then along came Leonardo DiCaprio and his movie "The Beach" and that all changed.
Filmed on Koh Phi Phi, "The Beach" showed just how beautiful the island really was. So much so, Phi Phi now has world-class hotels and resorts to suit anyone's luxury tastes. With several top hotels to choose from, these three Koh Phi Phi hotels are some of the best.
Zeavola Resort – This luxury beachfront hotel is the only high-end resort on Koh Phi Phi. Built on 10 acres of land, Zeavola Resort is on the north end of the island, secluded and away from all the crowds.
Zeavola Resort accommodation features secluded teakwood villas, surrounded by lush vegetation, and with beach, pool or village views. The villas are self-contained, with ensuite baths, outdoor rain showers, seating areas, verandahs that open up into gardens or the beach, flat screen TVs, DVD and CD players, Wi-Fi internet, coffee and tea making facilities and in-room safe.
The resort has a swimming pool and sauna, a boutique shop, and a diving center, from where you can learn to dive out in Phi Phi's pristine blue waters. The hotel also has two restaurants, where you can eat al fresco or order food to be delivered to your villa. Room service and food service is available 24 hours a day.
At Zeavola Resort, you'll experience Thailand's finest hospitality, it's most beautiful weather and it's most stunning island. Find out more about Zeavola Resort at their website (don't miss all the pretty pictures).
Phi Phi Andaman Legacy Resort – Phi Phi Andaman Legacy Resort is a large hotel and one of the best on Koh Phi Phi. It has 36 rooms in the main building and 20 villas in the hotel grounds, all decorated in contemporary Thai style.
Each of the guest rooms and villas feature hardwood floors, air conditioning, teakwood furniture, en suite baths, hairdryer, tea and coffee maker, TV with satellite, in-room Wi-Fi and a complimentary fruit basket. The hotels are spacious and airy and many have garden or ocean views.
The hotel's Legacy Sunset Bar is located on the roof of the hotel, with spectacular views out over the ocean. The Legacy Bar and Restaurant serves Thai and Western cuisine and does an incredible seafood barbecue.
At the Phi Phi Andaman Legacy Resort, you can exercise in the hotel's gym, take long walks on the beautiful beach, enjoy a beach party, get a massage or swim in the hotel's pool. Phi Phi Andaman
Legacy Resort's website has more information.
Villa 360 – Villa 360 is a brand-new resort hotel on Koh Phi Phi that's already making a name for itself. It has 33 luxury villas, overlooking the water, and is up on a hill slightly away from the beach (which some holidaymakers prefer after the devastating tsunami that all but destroyed Koh Phi Phi a few years ago).
The hotel's villas have private balconies with spectacular views, LCD TVs with satellite, air conditioning, in-room Wi-Fi internet, a mini bar, coffee and tea makers, both a bathtub and shower, a hairdryer and bathrobe. You'll also enjoy the balcony with its comfy deck chair, where you can sit and look out over the water or onto the mainland and Krabi.
Villa 360 has a swimming pool, gym and a spa, a poolside bar and a restaurant on a terrace overlooking the ocean. A marvelous place to enjoy breakfast, lunch or a romantic dinner.
For more information, Villa 360's website can fill you in.
Sources: