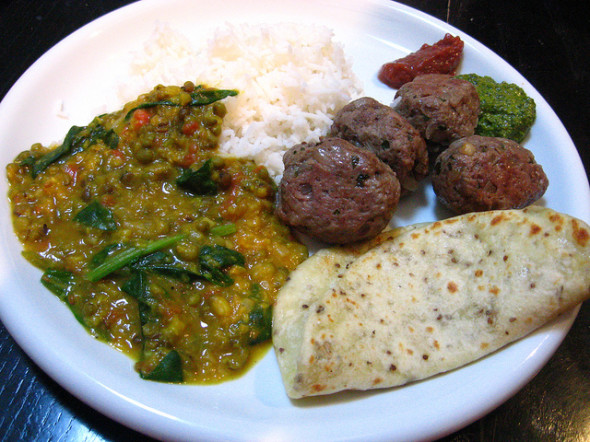 Bangkok, Thailand, surprisingly, has many excellent Indian restaurants all over the city. With a large Indian community, Bangkok's Indian cuisine is authentic, delicious and cheap. With so many restaurants serving traditional Indian food, it's difficult to choose the best in the city, but these three are known by Thais and foreigners as three of the most popular.
Dosa King – This casual Indian restaurant specializes in dosa, or Indian crepes. Everything at Dosa King is vegetarian and with tons of filling choices, you can get a delicious dosa that will really please. For appetizers, try the Vegetable Samosa, Vegetable Pakora (fried vegetables in batter), Tikki Chaat (potato patties) or Masala Vada (deep fried patties with spices).
Dosas include Paper Dosa (stuffed with onions, potatoes and chutney), Dosa Paneer (filled with cottage cheese and chutney), or Dosa Mix Vegetable Filling (spicy veggies). You can also order lots of northern Indian rice, yoghurt and veggie dishes and don't forget the traditional Indian desserts. Dosa King is also in an awesome location, just around the corner from the Nana BTS sky train station.
Dosa King
153/7 Thanon Asok Montri
Vadhana, Khlong Tan Nuea
Bangkok, Thailand
Tel: 011 (+66) 02 651 1700
Red – One of the most innovative Indian restaurants in Bangkok, Red serves both traditional and modern Indian cuisine in a stylish villa in one of the ultra chic areas of Bangkok. Try the Murgh Rassedar (a low calorie chicken curry), Salmon Paturi (served wrapped in banana leaves), or one of many kebabs, masalas, seafood or mutton dishes. The restaurant makes all its own breads, often baked while you wait, and the desserts are delicious.
Red is a wonderfully elegant and chic restaurant, very different than many Indian eateries in Bangkok. It's fashionable and challenges the taste buds with flavors you don't always associate with Indian food. You won't be disappointed though, no matter what you choose.
Red
124 Sukhumvit
Soi 53 (Thonglor Soi 9)
Bangkok ,Thailand
Tel: 011 (+66) 02 259 7590
Indus – Indus has eight Indian chefs that serve up traditional, authentic and modern Indian cuisine in an elegant and lovely environment. The restaurant is just gorgeous with rich fabrics, contemporary
style and an air of knowing that they're one of the best. Start with Kema Samosas, a Shredded Lamb Kati Wrap, or Hummus and Naan. Try the Corn Soup or the Hot and Sour Soup. For entrees, the Tandoori Tiger Prawns are delicious, as is the Karala Shrimp Curry and the Goan Fish Curry.
Make sure you eat one of the many varieties of freshly cooked Indian bread too. There are also many vegetarian options that are just as scrumptious as the meat and seafood choices.
Indus
71 Sukhumvit, Soi 26
Klong Toei,
Bangkok, Thailand
Tel: 011 (+66) 02 258 4900
Try one of these fabulous Bangkok Indian restaurants, then branch out and try more. Not only are there some wonderful upscale Indian restaurants in Bangkok, but there are also many 'holes in the wall' that serve some of the best (and cheapest) Indian food in the city.
SOURCES: