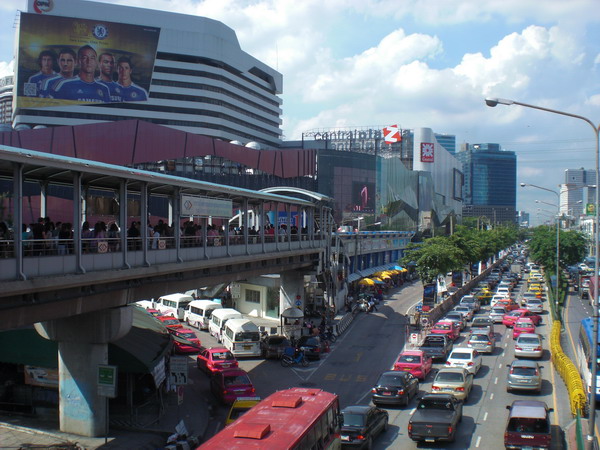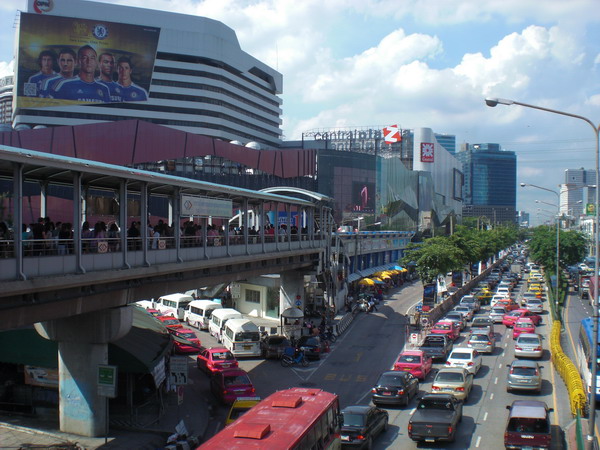 The Pahonyothin area of Bangkok, Thailand is one of the most popular places to shop and dine outside the main downtown area. Pahonyothin (also spelled Paholyothin) is one of Bangkok's major roads. It stretches for 1,000 kilometers from the center of Bangkok to the border of Myanmar. But, the main Bangkok shopping and dining section runs from Victory Monument, north to the Pahonyothin-Vibhavadi intersection, and on to Ratchadapisek Road and the Major Ratchayothin mall.
On a trip to Bangkok, don't miss visiting the Pahonyothin area of the city and enjoying some of Bangkok's best shopping and dining, that just happens to be away from the tourist traps.
Victory Monument – Right next to the Victory Monument sky train station on Pahonyothin, you'll find many market stalls targeted to high school and university students so, of course, prices here are dirt cheap. Look for clothing,shoes, bags, belts, costume jewelry and cell phone accessories. You'll also find stalls selliing adorable Asian-style notebooks, pens and pencil cases (great for gifts to take back home).
Don't miss buying drinks and snacks at the stalls around Victory Monument. There are waffles, sausages on sticks, grilled squid, fresh cut fruit, cakes, pastries and, of course, Thai iced tea, coffee and fresh fruit shakes. Prices here are as cheap as you'll find anywhere in Bangkok, and just about everything is delicious.
Shop and Eat at Ari – Get off the BTS sky train at the Ari station and eat lunch at one of the cute cafes or restaurants in the Ari area. Once just another northern Bangkok suburb, Ari is now home to trendy cafes, upscale restaurants, and cute shops.
Eat lunch at La Villa, a mini lifestyle shopping mall right next to the sky train. You'll find Japanese food (Fuji restaurant is wonderful), Thai, American, Korean and more here or, if you're looking for snacks Kanom sells delicious sausage rolls and Thai custard tarts.
For groceries, don't miss the Villa Supermarket, with its large selection of imported Western and Japanese food, there's a small Boots Chemist for toiletries and cosmetics and, if you're looking for books or magazines, you'll find a bookshop on the second floor (mainly Thai, but they do sell some English titles).
Chatuchak Weekend Market – The most famous shopping venue not only in the Pahonyothin area of Bangkok, but in the whole of Thailand, Chatuchak Weekend Market is the largest outdoor market in south east Asia. With more than 13,000 stalls, you can buy everything here from clothing, shoes and accessories, to household items, kitchenware, plants, flowers, carpets, paintings, Thai handicrafts and even pets.
Most of Chatuchak is only open on Friday evenings and all day Saturday and Sunday., although you will find the Thai handicraft, furniture and pets sections at the back of the mall open seven days a week. To get to Chatuchak, take the sky train to the Mo Chit station and follow the signs.
Central Ladprao Mall – Just passed the Vibhavadi-Pahonyothin intersection, Central Ladprao is a huge shopping mall that was recently renovated and now boasts some of the nicest stores and restaurants in Bangkok. Do your clothing, shoe and accessory shopping, buy electronics or mobile phones, pick up a few gifts, then enjoy a meal at more than 100 restaurants scattered throughout the mall. Don't miss grabbing a coffee at Doi Chaang coffeehouse in the basement. They seriously make the best lattes in Bangkok and at a cheaper price than Starbucks.
Central Ladprao is next to the Pahonyothin MRT underground train station.
Union Mall – If you're looking for bargain-priced electronics, cell phones or cheap trendy clothing, Union Mall, which is on the opposite side of Pahonyothin to Central Ladprao, sells everything you could possibly want. Electronics and computer supplies are on the upper floors, and some of the cutest fashions are for sale at market stalls on the ground floor. Prices begin as cheap as 100 baht ($3) for t shirts, so don't miss shopping here.
Union Mall also has a good food court in the basement, many inexpensive restaurants on the higher floors, and a small Tops supermarket.
Major Ratchayothin – Major Ratchayothin is a small mall mainly known for its many cafes and restaurants and for the large movie theater and bowling alley on the top floor. Good places to eat here include Hachiban noodles, Chester's Grill (if you want to fast food that's not an American brand), and Sizzler, which has one of the best all-you-can-eat salad bars in Bangkok.
Suzuki Avenue is right behind Major Ratchayothin and is a large mini mall comprised of mainly restaurants and cafes. The Ootoya Japanese restaurant is wonderful, Scoozi Pizzeria makes amazing pizzas and sandwiches, and Iberry ice cream, Thailand's own designer ice cream brand, does a roaring trade here.
You can get to Major Ratchayothin and Suzuki Avenue by either taking a taxi from Mo Chit BTS sky train station, or hopping on a bus (bus numbers 104, 503 and 63 all go here, along with several others).
These are just some of the thousands of places where you can shop and eat in the Pahonyothin area of Bangkok. It's well worth spending a couple of days exploring the area, as this is where real authentic Bangkok happens, and not in the usual tourist places down town.