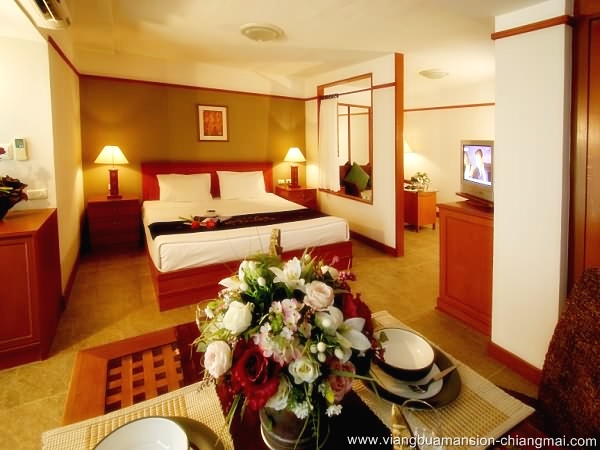 Many people go to Chiang Mai, Thailand for a vacation and end up staying there for a few weeks or months. Chiang Mai, with its golden temple on the hill, jungle, rice fields, night markets, coffee shops, art galleries and ancient city is one of the most beautiful cities in Thailand. But staying in Chiang Mai in a hotel can get expensive, so many people choose to rent a room or an apartment in a serviced apartment building. The best serviced apartments in Chiang Mai include electricity, water, maid service and usually cable TV and internet. There are many serviced apartments to choose from in Chiang Mai, but the following are some of the best.

Empire Residence – I stayed at Empire Residence for three days at the beginning of the year and would recommend it to anyone looking for a beautiful serviced apartment in an excellent location. Located right on Nimmanhemin Road, with art galleries, coffee shops, trendy restaurants, a supermarket, several banks – all within a block of the residence – you couldn't find a better location in Chiang Mai. The building is new this year, so everything is modern and lovely inside.
Serviced apartments are gorgeous with modern furniture, flat screen TVs, coffee making facilities and fridges in the smaller apartments, and full-sized kitchens in the larger ones. Rates start at 1,200 per night ($35) for the studio apartments, to 2,700 baht ($79) for the Super Deluxe serviced apartments, which are just huge and gorgeous! Also included is breakfast every morning in their lovely cafe, and there's also a gym and office facilities. Monthly rates start as low as 18,000 baht ($545) and include maid service, internet and cable TV. (Do not confuse Empire Residence with New Empire Hotel – not the same place!) Call 05-328-9288.
Studio 99 Serviced Apartments – Another of the newer best serviced apartment buildings in Chiang Mai is Studio 99. They offer daily, weekly or monthly rental agreements, with better deals the longer you stay. For daily rates, serviced apartments at Studio 99 range from 2,000-2,8000 baht ($59-$83) a day, which is expensive for Chiang Mai. However, for monthly rates, they range from 34,000-40,000 baht ($1,000-$1,200) a month – still expensive for Chiang Mai, but cheaper than staying in a hotel for so long.
Apartments are lovely and fully-furnished with modern furniture, fully-kitted out kitchens and bathrooms and nice balconies overlooking the city. There's cable TV (with DVD players too), free Wi-Fi internet, night time security and a travel agents. Studio 99 is also centrally located on Thapae Road with coffee shops, restaurants and art galleries all around. Call 05-320-6960 for more information.

Viangbua Mansion Serviced Apartments – Beautifully decorated serviced apartments await you at Viangbua Mansion. With 108 rooms decorated in northern Thai style, has Superior and Deluxe Rooms. Superior Rooms, basically a single room, include rooms on lower floors (the view isn't as nice) but with cable TV, high-speed internet, in-room safe and refrigerator and coffee-making facilities. The Deluxe Rooms include a bedroom, living room, and fully-kitted out kitchen with full cooking facilities.
Superior Rooms begin at 12,000 baht per month ($358) and include everything but electricity, which is an extra charge. Deluxe Rooms start at 22,000 baht ($656) and include maid service and weekly linen changing. Located on the outskirts of the city, Chiang Mai is easy to get around on many forms of public transportation, and it is a very quiet area. Call 05-3411-1202.
Noble Place Serviced Apartments – This, one of the best serviced apartments in Chiang Mai, has studio apartments up to large suites, all decorated in a trendy modern version of northern Thai style. With kitchenettes in every room, plus a decent on-site restaurant, a coffee corner, and free internet in the lobby as well as in the rooms. Noble Place Serviced Apartments are the choice for those who plan on flying in and out of Chiang Mai often, as they're located minutes from the airport.
Rooms come with cable TV and maid service. Daily rates begin at 950 baht ($29) and go up to 4,500 baht ($134) for suites. You'll need to call for monthly rates, as these differ enormously. Contact 05-328-4999.