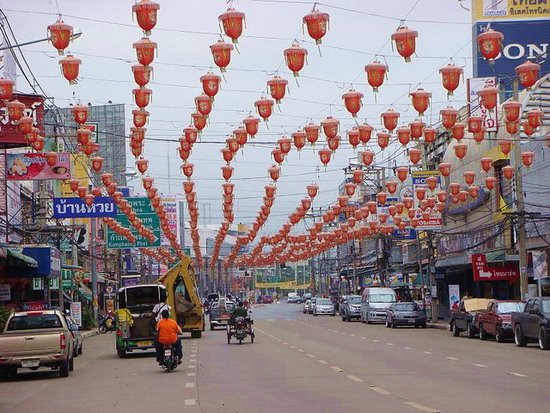 Nakhon Sawan is a Thai city and province about 250 kilometers away from Bangkok. It's famous for being the location where the main rivers that run through Thailand meet and form the massive Chao Praya River. Up until recently, not many foreign tourists made it to Nakhon Sawan Province, preferring to stick with Bangkok, Chiang Mai and Phuket. In the last couple of years though, more people are getting to Nakhon Sawan and realizing it's an interesting Thai city to visit.
Nakhon Sawan Province is especially interesting for those tourists who like to see real Thai culture as, here, what you'll see is real Thai life – not the fake Thai culture you see in many tourist areas. If you do get up to Nakhon Sawan though, where are the best places to visit?
Wat Woranat Banphot – Wat Woranat Banphot is an extremely interesting Thai temple to visit as it has a replica of what is supposedly Buddha's footprint, and also has a small pagoda which holds one of the relics of Lord Buddha. The temple is on the top of a mountain just outside Nakhon Sawan and has beautiful gardens full of flowers, gorgeous temple courtyards to wander around and an amazing view of the city, mountains and jungle around Nakhon Sawan.
The Place Where the Rivers Converge – Four main rivers converge in Nakhon Sawan and, from then on, become the mighty Chao Praya River. At the place where the two main rivers converge, the Ping and the Nan Rivers, on most days you can clearly see the two distinct colors of the rivers, one being a reddish color and one more green.
In the past, this area has been known in Thai as 'Mae Nam' or 'Mother River', which shows what enormous value Thais have always placed on their waterways. I've spent a lot of time on boats up and down the Chao Praya, so I loved seeing where the river actually originates.
Chan Sen Ancient City and Museum – One of the best places to visit near Nakhon Sawan is the ancient city of Chan Sen, which is located around 90 kilometers from Nakhon Sawan city. Chen Sen was built over a thousand years ago on top of an enormous man-made island that was then surrounded by a moat.
Chan Sen is  important in Thai history as, from things unearthed in archaeological digs, it's become obvious that this area was inhabited in pre-historic times, one of the earliest occupied parts of what is now Thailand.
Archaeological excavations have been going on in Chan Sen for a number of years now and important finds like lamps, pottery, dolls, jewelry, axes and spears have been found. These finds are now displayed in a small museum, where tourists can find out more about the area.
The museum is only open on weekends, so, if you're interested in ancient Thai history, make sure you leave this trip till a Saturday or Sunday to be able to see everything there is to see.
Mae Wong National Park – Thailand has many beautiful and unspoiled national parks to visit and Mae Wong National Park is one of them. Located just on the border of Nakhon Sawan province, Mae Wong is famous in Thailand for the best place to visit if you like bird watching.
Many species of birds are in Mae Wong National Park that you're not likely to see in other places. There are also mountains, jungle, limestone caves and several canals (klongs) that you can trek to. Along the way, you're even likely to see wild elephants, beers, deer, wild pigs and maybe even tigers. Mae Wong is also the home of one of Southeast Asia's largest waterfalls.
Thais love visiting waterfalls so, any day of the week, if you get to Mae Ki waterfall, you'll see Thais swimming, paddling, and taking photos of this amazing waterfall.
Wat Bang Pramung Floating Market – If you want to see an authentic floating market, stay away from the two near Bangkok and visit Nakhon Sawan's Wat Bang Pramung Floating Market instead. It's around 10 kilometers outside Nakhon Sawan city and is right outside Bang Pramung Temple.
Here you'll see local Thai sellers pull up their boats loaded with produce and products and open up shop. Prices at this floating market are much cheaper than the Bangkok version, as it's not just set up for tourists. You can also hire tour guides with boats here that will take you around the many little canals, out to orchid farms and temples and even take you to a nice place to eat lunch.
The market starts at 7am so get there early, as all the fun is over with by 4pm. The market only operates on the weekends.
Photo – City life in Nakhon Sawan, copyright Nicolai Bangsgaard, Creative Commons License