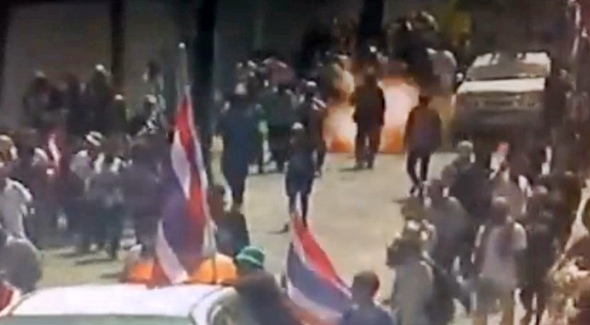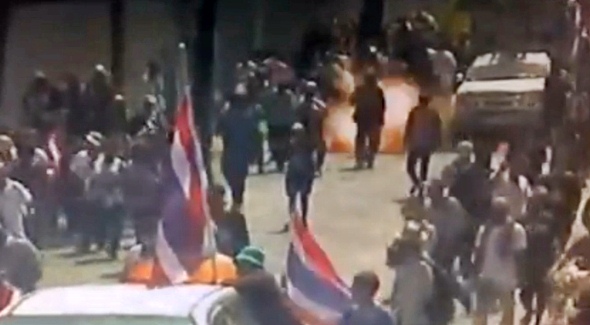 Bomb explodes at Victory Monument anti-government protests
The second small bomb in two days has exploded at a Suthep/PDRC protest site in Bangkok, this time at Victory Monument. Thai TV is reporting at least 28 people were injured, one of them a Thai news reporter from Post Today newspaper.
The bomb was thrown into the crowd close to a press tent and exploded at around 1:30pm. Several men were seen running from the scene, with protesters and guards from the protests chasing them. Shots were fired and another bomb thrown as the men fled.
The first bomb exploded at a Suthep/PDRC protest site in Bangkok on Friday afternoon as Suthep and anti-government protesters supporting him were marching along Banthat Thong Road. 39 people were injured, one seriously. He died of his injuries in hospital later that day.
Thai news is now reporting they want to question a former aide to Kowit Tharana, a former Democrat MP, in connection with Friday's bombing of protesters in Bangkok. The aide was seen dropping something on the ground and then taking cover.
Five seconds later, the bomb detonated, then he and another man ran from the scene paying no attention to injured protesters.
For more on Friday's bombing, watch the YouTube video below showing the moment the bomb exploded.
For more on the bombing at the Suthep/PDRC protest site at Victory Monument today, stay tuned as we'll report with any updates as we hear them.