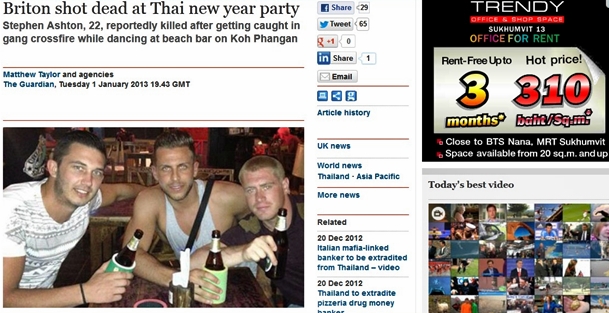 Sad news from Koh Phangan, Thailand today where a young British man, Stephen Ashton, 22, was shot and killed by a member of a Thai gang while dancing at a New Year's Eve party at Haad Rin Beach.
The incident took place at a beach bar on the Thai island around 4am on January 1st when members of two Thai rival gangs got into an argument. One man reportedly walked away, then pulled out a gun and shot wildly into the crowd. The bullet hit Stephen Ashton in the chest.
People in the crowd tried to save his life, as did doctors at nearby Bandon International Hospital but they were unable to save him.
The Thai man who fired the shot was later captured by police after fleeing into the interior of Koh Phangan and will likely be charged with murder. Taai police say there were enough witnesses to the shooting of Stephen Ashton to easily be able to prosecute.
Ashton was on holiday in Thailand with a group of friends for New Year. Just an innocent bystander  enjoying a New Year's party on an island where the violence rate has unfortunately been increasing in recent years.
You rarely hear of any tourist in Thailand being murdered though, even in an accidental incident like this.
Incredibly sad for Stephen Ashton whose life was cut short in an act of senseless violence, and what a tragic start to 2013 for his family back home.
The Guardian has the full story.