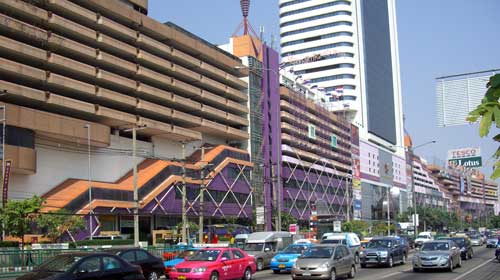 One of my newly discovered pleasures is shopping at Fortune Town Mall in Bangkok, Thailand. Just a few minutes by underground from my house, it is the best IT mall in Bangkok – and is where I buy all my computer supplies and electronics.
Although Thais will often send most tourists and visitors to Bangkok to Pantip Plaza for all their IT requirements, Fortune Town Mall is the place you should be shopping if you are looking for cheap prices, good customer service and top quality goods.

A Mall For Thais – Where Pantip Plaza, Bangkok's best known IT mall, is for Thais but mostly for foreigners, Fortune Town Mall is mostly for Thais.
What that means is, unlike at Pantip, where you are given higher prices, fake products masquerading as authentic and pushy salesmen who won't take no for an answer, at Fortune Town Mall you are not shopping at a tourist spot. Prices are cheaper, products are better quality and the sales people are less pushy and more honest.
In fact, most of my Thai friends now refuse to shop at Pantip as they say Fortune Town Mall is miles ahead of the game.

Convenient Location – If you shop at Pantip Plaza, it is a 15-minute walk or a 10-minute taxi ride from the closest sky train or underground.
Buying electronics at Fortune Town Mall, on the other hand, is easy as the mall is on Ratchadapisek Road, slap bang next to Phra Ram 9 underground station. That means it is easy to get there from just about anywhere in the city.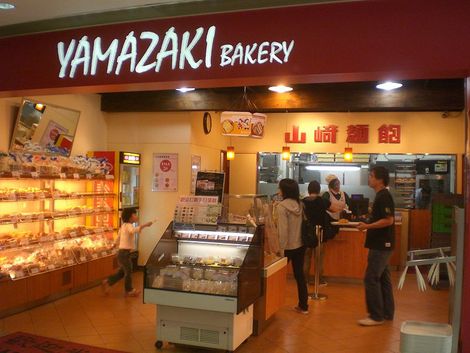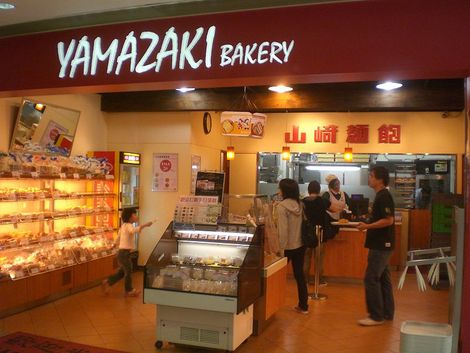 Shopping and Eating – Not only is Fortune Town Mall a great place to buy IT products, it is also a fun place to eat, buy groceries or shop for products as diverse as toiletries to clothing.
On the ground floor of the mall and the basement, you will find a large number of cafes and restaurants so, as you can imagine, it is packed at lunchtime. There is everything from KFC and McDonald's to Thai fast food places like Chester's Grill and Pepper Lunch, a large food court, various traditional Thai food stalls, ice cream shops, Thai dessert places and a couple of excellent bakeries.
After eating, you can do all your grocery shopping at the large Tesco Lotus supermarket, as well as buy shoes and clothing, pet supplies, sporting goods and children's toys.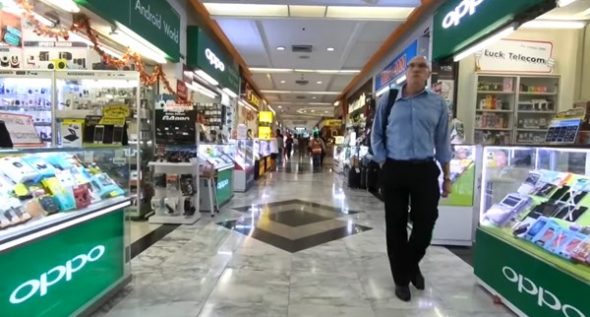 Buying Electronics at Fortune Town Mall – Every electronic product or piece of software I have bought in the last 10 years, I have bought at Fortune Town Mall. The center has three floors stuffed full of small to large electronics and IT shops selling everything from laptops and desktops, to printers, cell phones, cameras, MP3 players, DVDs, CDs, software, laptop bags and more.
I always comparison shop before I buy and, in the last 10 years, when I have compared products like laptops and cameras at Pantip Plaza and Fortune Town Mall, the latter has always been the clear winner. With products selling for $100 less, I don't even think about shopping anywhere else.
Products here too are better quality, there is a lower number of fake products than Pantip and, if they are fake, the salespeople are more likely to tell you so you can make the choice to buy them or not.
Related: Why Pantip Plaza isn't the best place for electronics in Bangkok, Thailand
At Pantip, the salespeople will often try to fool you by saying that the product is genuine and by the time you get it home and discover it is a knock-off, it is too late to exchange it. And that's what the salespeople count on.
You will also find an excellent selection of used cell phones, desktop computers and laptops and cameras at Fortune Town Mall, if you don't want to pay the price for new. The salespeople will have checked them out and they will come with warranties, so don't hesitate to buy something used here if it fits your purpose.
If you are looking for cheap but top quality electronics, computers and IT products, the only logical choice is to always buy all your electronics at Fortune Town Mall.
They are even good at accepting returns if products are faulty or not what you wanted, which is still rare in Thailand.