The first thing you will notice at Cabbages and Condoms restaurant in Bangkok, Thailand is the gift shop. At first glance, it looks like any other gift shop but, when you look closely, you'll see much of what it sells is connected to family planning and HIV/AIDS prevention.
This is because Cabbages and Condoms was created as a restaurant where all proceeds go to charity – a charity founded by Mechai Viravaidya, a prominent Bangkok politician and philanthropist, with the sole purpose of raising money for family planning issues and HIV/AIDS. Cabbages and Condoms has been in existence for a long time and is extremely popular in Thailand.
Cabbages and Condoms in Bangkok is on Sukhumvit Soi 12, and the charity it supports, Population and Community Development Association is right next door. The restaurant is situated in a delightful garden, with flowers everywhere and lots of trees hung with fairy lights.
You can choose to eat inside or outside. Outside, there is a courtyard as well as a large deck upstairs. Inside, there are several rooms, and an upstairs and downstairs. The restaurant easily seats several hundred people, which means you don't usually have to wait for a table.
The food at Cabbages and Condoms is traditional Thai food. They have a good vegetarian menu, Thai salads, soups, curries, appetizers, main entrees and desserts. My favorite dish here is the Phad Thai Gung Sod, which is stir fried noodles with shrimp. It's slightly spicy but not too bad, and you can ask for it to be made less spicy (the Thai phrase for that is "mai pet") if you can't tolerate highly spiced cuisine.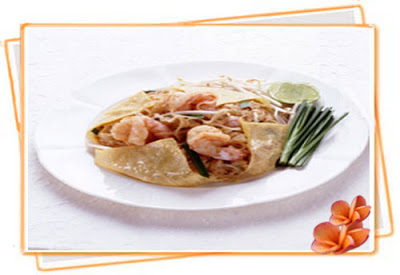 Pad Thai Gung Sod
I also love the Yam Ped Krob, or spicy duck. The sauce is unlike anything I've eaten before and really delicious. The Som Tam (papaya salad) is excellent, as is the Gang Massuman Nuea – sweet curry with beef and potatoes. Massaman Curry is my all time favorite Thai dish, and Cabbages and Condoms makes a delicious one. For dessert, try the Banana Fritter with ice cream. Yum.
Cabbages and Condoms also has several 'set menus' to choose from. This is good to do if you're not too familiar with Thai food and want to try a few different things. For most of the set menus though, you do have to have a minimum of five people who want to eat this way.
At the end of the meal, when the check is brought, you'll receive a small plate with a free condom for each person in the party instead of a mint (this is where the restaurant name comes from). You can also buy more of them if needs by at the gift shop at the entrance.
The shop also sells Mechai's autobiography, which is interesting. Especially because he is not your typical retiring Thai, but instead pushes himself forward and creates trouble just because he believes in his cause so much. In Thailand, many people say he is almost single-handedly responsible for the enormous reduction in HIV cases in the country, because he was the first person in Thailand to start distributing free condoms.
The staff at Cabbages and Condoms is not always the friendliest in Bangkok. We had a problem with the check last time we went – the waiter ran out after us to accuse us of not leaving enough money then, when he realized it was his mistake, he didn't even bother to apologize to us. However, this is not the restaurant's fault and the food definitely makes up for problems like that.
Price-wise, Cabbages and Condoms is more expensive than a lot of Thai restaurants, but I don't begrudge the price as the profit is going to such a worthy cause. Cabbages and Condoms also has an area called 'Computers and Condoms', where you can go online and check e-mail and surf the web. This is handy for those who are on holiday and not always able to find internet places.
One quick hint, Cabbages and Condoms is on Sukhumvit Soi 12, which is a small dark lane and the restaurant is located half way up. At night it can be a bit scary for those who aren't aware that Bangkok is a very safe city, but please don't worry. There are people around and this area is a very safe area of Bangkok. Just keep walking up the soi and you will eventually see a well lit area – this is the entrance to Cabbages and Condoms.
Cabbages and Condoms is a unique theme-restaurant and worth a visit. The atmosphere is nice and you're donating money to a great cause while getting good food at the same time.