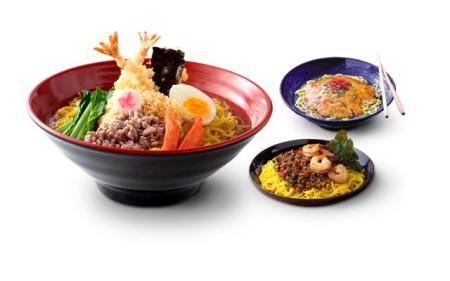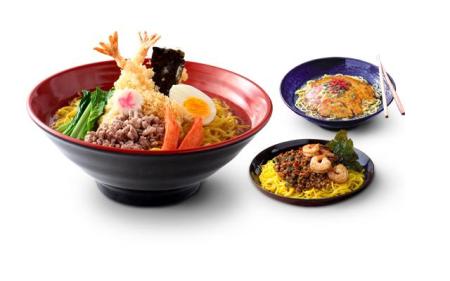 Central Ladprao Mall is the Bangkok shopping center I frequent the most, simply because I live close to it. That also goes for the other 150,000 people who visit Central Ladprao daily, often not only to shop but to eat as well.
The mall has seven floors, is chockful of shops, but is also home to more than 75 restaurants, many of which are cheap and popular with Thais and visitors alike. If you're looking for cheap noodle shops, cheap coffee shops, cheap western food or even cheaper food courts, Central Ladprao is where you should be heading.
Central Ladprao's Food Courts – The first two places most people eat at Central Ladprao are the two mall food courts. The most popular, and the largest, is on the fourth floor of the mall, behind S&P restaurant. Seating around 350 people, this food court has primarily Thai food restaurants, with choices like noodles, rice and chicken dishes, duck and rice, crispy spring rolls, Som Tam, fried fish and fried rice.
There are also traditional Thai dessert stalls, and don't miss the ice cream with lots of (to you) weird Thai toppings – it's delicious.
The second Central Ladprao food court and another cheap place to eat is the one in the basement in front of Tops Supermarket. This is smaller as far as seating goes, but has just as many food stalls with predominantly Thai cuisine, but also some vegetarian, Vietnamese, Japanese and western – including a KFC stall.
There are many dessert shops down here too, including donut stores, cake shops and ice cream and frozen yoghurt stalls. This food court is popular for takeaway food, so it you'd rather eat at home, grab it to-go here.
Expect to pay between 30-50 ($1-$1.70) baht per entree and portions are large.
In and Out by Oishi – I love In and Out Cafe, which is owned by the Japanese noodle company Oishi. It is located in the center of the mall on the ground floor, and has a huge bakery section with Thai and Japanese-style pastries, cakes and cookies. They do a darn good latte, an amazing frozen kiwi shake, and good green tea.
Here you can grab a sandwich, which they'll heat up while you wait, along with a pastry or a cookie and a large hot latte or other fancy drink. For all of this, you'll pay around 120 baht ($3.95). Plus, it's a great place to sit and watch the crowds walk by and the staff is lovely.

Black Canyon Coffee – Another of my favorites and one I eat at at least once a week is Black Canyon Coffee. On the ground floor of the mall, Black Canyon Coffee has a mix of Thai and western food, in a lovely cafe atmosphere. Spaghetti, chicken and rice, pork and rice, sandwiches, fried chicken and french fries, and salads are just some of the dishes at Black Canyon.
Prices start at 60 baht ($2) for an entree, with an entree and a drink costing no more than 100 baht ($3). Try their fruit shakes or frozen green tea drinks. They're scrumptious.
Oishi Noodles – Incredibly popular with students, Oishi is on the ground floor of the mall, opposite McDonalds and KFC. Just about the cheapest restaurant at Central Ladprao, at Oishi you can order a large bowl of ramen or other style noodles with a meat and vegetable topping for as low as 45 baht ($1.50).
Portions are large and the food is delicious. My favorite is the Gyu-Niu Ramen, a bowl of ramen noodles in a beef broth, topped with large slices of beef, veggies and a slice of egg. At 80 baht ($2.75), it's a cheap price for such a huge meal.
Also try their sushi, which is inexpensive, fresh and tasty and they make decent pork dumplings too (also called gyoza). You can get away with spending 100 baht ($3.10) for a large bowl of noodles and a soft drink at Oishi.