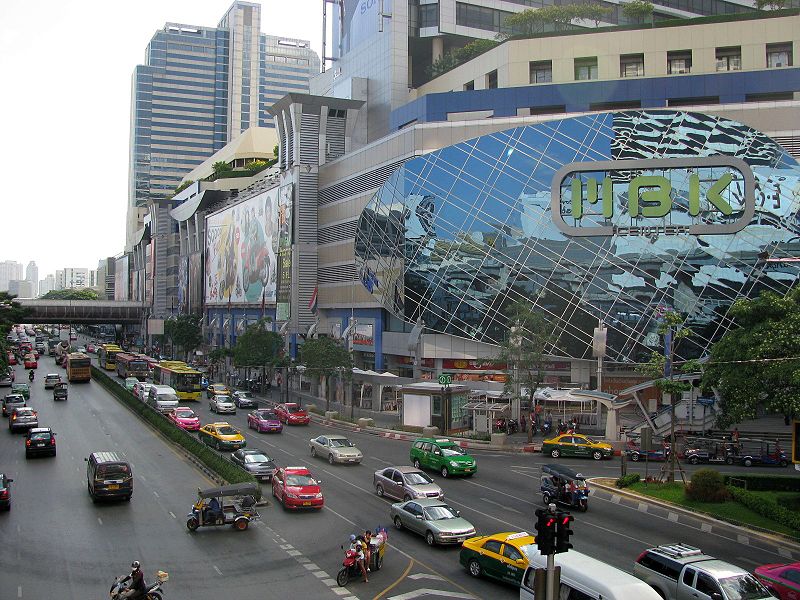 Mahboonkrong Mall, known as MBK by local Thais, is one of the cheapest and most popular malls in Bangkok, Thailand. Packed with everything from market stalls to small shops and large stores,it's also home to more than 150 restaurants, cafes and food courts.
If you are traveling in Thailand on a budget and can't spend a lot of money on food, then eating at Mahboonkrong is for you. At MBK, you'll find many restaurants, cafes and food courts where you can get an average meal for no more than $1-3 and here are the best places to try.
MBK Food Court – The first place to get a cheap meal at Mahboonkrong is the food court. Known as one of the top food courts in Bangkok by locals, here you will find many stalls selling Thai cuisine, as well as Vietnamese, Chinese, Indian, Korean and several western food stalls.
There are also stalls making Thai desserts, fresh fruit shakes, ice cream, pancakes and lots of other yummy treats and with entrees beginning at $1 and dessert at only 70 cents, at MBK's food court you can afford to try a few dishes.
You will find MBK Food Court on the sixth floor of MBK Mall. Buy coupons at the coupon desk when you get there and pay with these. Any coupons you do not use, return and get a refund on the same day you buy them.
Hachiban Ramen – A beloved Japanese noodle shop, Hachiban Ramen is a popular restaurant for a cheap meal for both Thais and visitors to Bangkok. The delights of Hachiban include massive bowls of noodles starting at $1.95 that are loaded with pork, beef, or chicken, everything is cooked while you wait so it's always fresh, and with a filling bowl of noodles plus a soft drink costing less than $2.70, you really cannot beat it.
Try the noodles in pork broth, one of my favorites, as the broth is so tasty and, at just over $2, they are very cheap.
You can tell just how popular Hachiban Ramen at MBK is as there are three restaurants in the one mall – one on the first floor, one on the second and another on the third.
Coco IchibanYa – If you like curry, you will love Coco IchibanYa. A Japanese curry house where you can mix and match different curry toppings, vegetable sides and can also choose if you want your curry mild or spicy.
If you are used to Thai curry or like yours spicy, at Coco IchibanYa make sure you order it extra spicy as Japanese curry is exceptionally mild compared to Thai.
Coco Ichibanya's curry is delicious, the food is fresh and the staff always smiling and happy. For a curry plus rice, a side of vegetables and a soft drink, you'll walk out absolutely stuffed and only about $4.50 lighter.
Coco Ichibanya is on the 7th floor of MBK, right next to the movie theater area.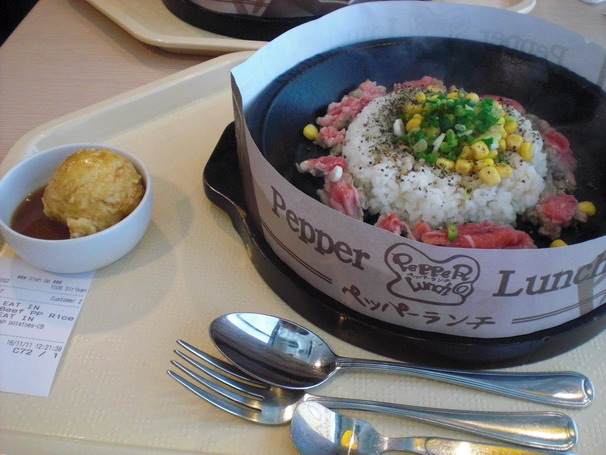 Pepper Lunch – Another cheap restaurant at MBK is Pepper Lunch, a Japanese steak restaurant that also sells pork and chicken dishes. At Pepper Lunch, you order a set meal at the counter, which will be brought to your table in just a few minutes. When the meal arrives, you'll see a mound of hot rice, meat, a sauce and yellow corn all piled onto a huge hot griddle plate, which is still cooking the food when it arrives at your table.
Spend the first 2-3 minutes stirring all the food around to make sure everything is cooked properly then add a little more sauce and eat. Be careful, it is hot, but incredibly delicious. For an enormous hot platter of food, an added extra fried egg, and a coke, expect to pay about $4. Dirt cheap and you'll roll out of there feeling like you won't be able to eat again for another week.
Pepper Lunch is on the 7th floor of MBK.