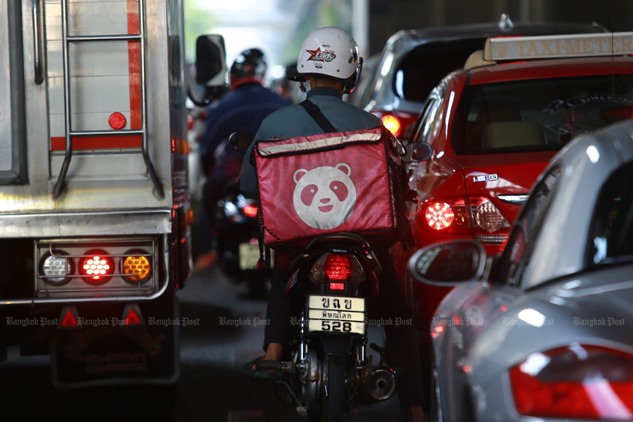 These days, many large corporations are still on the wrong side of history when it comes to freedom of speech and human rights.
Apparently, one of them is Foodpanda, Thailand's second-largest food delivery company. A company that, in a tweet yesterday, inferred Thailand's anti-government protests were 'terrorism'.
A tweet that caused Thais all over Thailand to tell their friends to "delete the Foodpanda app" and to no longer use the food delivery service for their meals.
Foodpanda calls anti-government protests 'terrorism'
The uproar started yesterday when a pro-royal Twitter user tweeted a photograph of a motorcycle rider shot from the back, and carrying a Foodpanda food box.
He used the pro-government hashtag #July18mob, and said the rider was part of a group trying to burn a royal photo. He asked officials to take action against the person.
Foodpanda replied to his tweet soon after saying the company was investigating to try to find out the identity of the rider, and if they were a Foodpanda delivery person or someone impersonating one.
The tweet also commented:
"We will take drastic action by immediately terminating employment. Foodpanda has a policy against violence and all forms of terrorism and is willing to help officials take legal action against offenders."
Anti-government Thais, which at this point is an enormous part of Thailand, immediately hopped onto Twitter to tell Foodpanda exactly what they thought of their 'terrorism' comment.
The hashtag #banfoodpanda quickly appeared, followed by a deluge of comments from Thais telling others to delete the Foodpanda app and never use the company's delivery service again.
One commenter on the Foodpanda Thailand Instagram account posted:
ตอนนี้สบายแล้วสินะ ได้งานจาก"รัดทะบาน ทะหาน" ส่งอาหารและยาให้ผู้ติดเชื้อตามบ้าน เชิญเลียและรับใช้เผด็จการไปเถอะ ประชาชนอย่างเราจะไม่สนับสนุนคุณ

"I'm fine now. Got a job from "Rattaban Tahan" to deliver food and medicine to infected people at home. Please lick and serve the dictator. People like us won't support you."
Small shops, who partner with Foodpanda's delivery service, also suspended the delivery service, telling their customers they do not support a company like Foodpanda.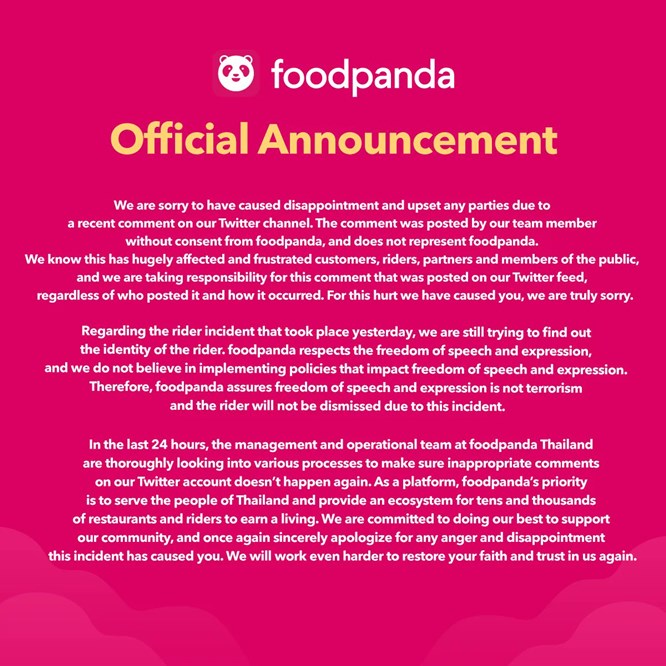 Foodpanda subsequently deleted the tweet and apologized on Twitter, saying it was a team member that had posted the anti-protester comment.
The company then issued a statement in both English and Thai (see above for English version), saying:
"…we do not believe in implementing policies that impact freedom of speech and expression. Therefore, foodpanda assures freedom of speech and expression is not terrorism and the rider will not be dismissed due to this incident."
However, the company did say it was still trying to find out the identity of the driver in the photo, leading some social media commentators to ask "Why?".
Philippines Foodpanda drivers suspended for 10 years for asking for higher pay rate
The Foodpanda tweet accusing anti-government protesters of 'terrorism', however, isn't the only problem Foodpanda as a company has at the moment.
At its Philippines division, the company has also just suspended drivers that asked for a pay raise. They will not be allowed to drive for the company for 10 years.
The drivers were planning a 'silent protest' after many requests to the company for a higher pay rate were ignored.
The Philippines-based drivers planning to protest say the rates they were paid were lowered after the Covid-19 pandemic began.
Many now often go home having earned nothing after they take out the cost of gas and meals from their pay rate.
It is no wonder Foodpanda now has the bad reputation it does, with many people saying they will never use the company's delivery service again.