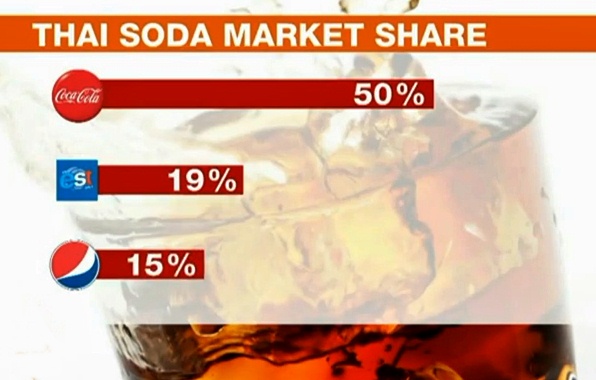 It must have dawned on Pepsi really fast they had screwed up in Thailand. Once the number one best selling fizzy soft drink in the country, Pepsi has fallen to third spot just six months after it attempted, and failed, at a hostile takeover of its Thai bottling partner Serm Suk Pcl.
Now, Thailand's new beverage est Cola is the number 2 best selling fizzy soft drink in Thailand, and is already 4 percentage points ahead of Pepsi after only being in existence for half a year.
Interestingly even after operating in Thailand for close to 60 years, Pepsi Co. didn't seem to understand Thai culture when it suddenly decided a hostile takeover of Serm Suk was a smart move.
After all, any westerner who has lived in Thailand for a while can tell you Thais stick together in business, and when an American company tries to take over a Thai company it is never going to end well — for the Americans that is.
Once Pepsi's failed hostile takeover bid ended, Serm Suk Pcl went into action. It refused to resign a deal with Pepsi to bottle its product, went into partnership with Thai conglomerate Thai Beverage and, between the two of them, they have managed to make their new product, est Cola, the number 2 best selling fizzy soft drink in Thailand.
Good for them!
Meanwhile, Pepsi has lost — big. In fact, it is now often so difficult to find Pepsi in Bangkok (it was missing from my local Bangkok grocery store for at least six weeks and has only recently returned in large quantities) that, if you don't like Coke, your only choice is est.
Personally, I not only like est, I prefer it to Pepsi, which I've never drunk that much. While I don't drink fizzy soft drinks very often, I do occasionally grab a bottle of coke when the weather is really hot and my first choice now is est.
For more on Pepsi's hostile take over in Thailand and the funny, I think, results check out the Aljazeera video below. And then, buy some est.