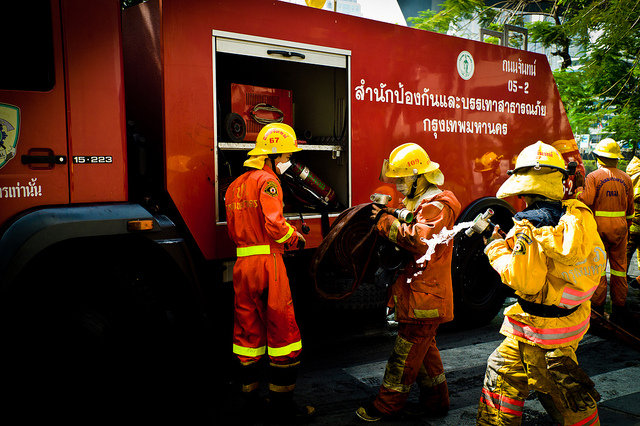 A massive fire has broken out at the FICO Building in the Asok area of Sukhumvit in downtown Bangkok. But, as often happens in Bangkok firemen are having a hard time accessing the fire and getting water on it. Why? Because there are too many electrical wires around the building (and we've all seen that spaghetti mess everywhere in Thailand) to get a fire ladder up, and fire hoses won't stretch to the seventh floor where the fire began.
TV news reports are already saying the fire has leaped to the eighth, ninth and tenth floors already, which means the owners can probably kiss the FICO building goodbye.
It's odd however that news is reporting the fire department didn't have hoses long enough to reach the seventh floor as, I've seen major fires in my area three times in the 10 years I've been living here, and in every case the Bangkok fire department had equipment to fight fires in a high-rise building. After all, Bangkok has hundreds of them, so why wouldn't they have today too?
What's amazing too, in Bangkok, is how fast fire trucks often get to a fire as the city has some of the world's worst traffic jams. Friends downtown in the Asok area are telling me fire trucks arrived within minutes of the fire breaking out at the FICO building, and that's during the middle of the afternoon on Saturday,when everyone is downtown shopping.
The fire at the FICO building broke out around 3:15pm and, as of this writing at 5:15pm, is still burning.