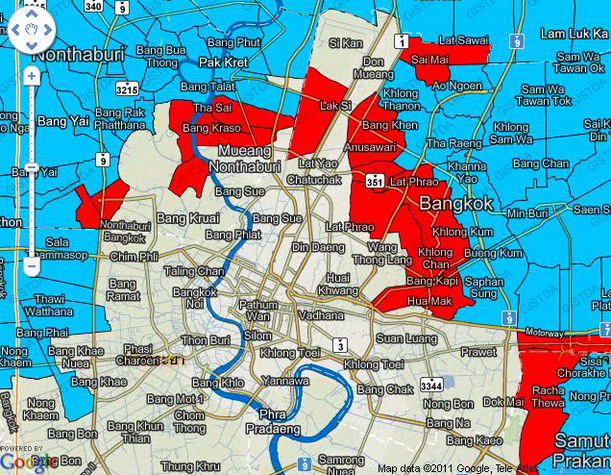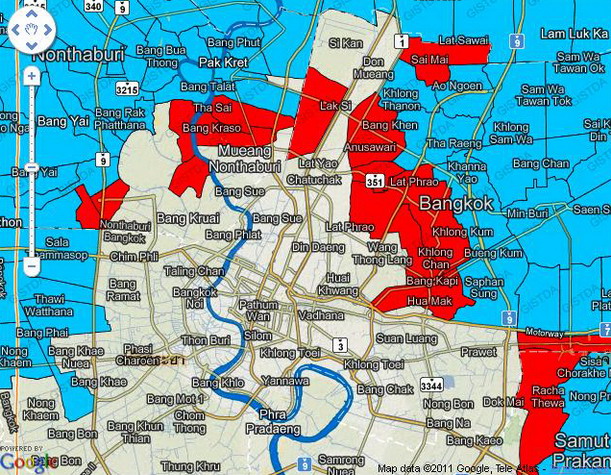 The moment everyone in Bangkok has been worrying about for weeks has arrived.
Thai news is reporting flood waters have officially arrived in Bangkok as the government-ordered opening of the flood gates occurred a few hours ago.
The water level in several klongs (canals) has risen and reports say water on Pahonyothin Road in northern Bangkok have also risen around 15 centimetres.
But, if or where Bangkok will actually flood is really anyone's guess.
The government is releasing the flood waters as slowly as they can and hoping the klongs can hold the extra water and channel it effectively down and out into the ocean. But, whether klongs can hold the excess water or whether some will overlflow is yet to be seen.
The map above shows where the projected flooding areas are, although, again, they may flood and they may not – you can also find this map at Thailand Flood Monitoring System and zoom in and out to your heart's content.
The site is in Thai, but the map is in English.