If you know anything about Thailand, you probably know dental work in Bangkok is far cheaper than in the United States.
And, when I say far cheaper, I mean often 10 percent or 20 percent of what you would pay in America, which has some of the world's most expensive dental care.
If you are planning a visit to Bangkok, or already here, and concerned about your teeth, one thing you may be thinking of getting is laser teeth whitening.
If so, how much is laser teeth whitening in Bangkok and will you get the same quality of care as you would get in the U.S?
After all, a typical laser whitening treatment currently runs around $1,000 in the U.S, so surely you can get it cheaper than that in Thailand?
How much is laser teeth whitening in Bangkok, Thailand?
While some westerners, usually those with little experience in Thailand, will tell you only to go to the expensive Bangkok dental clinics for dental treatment as they offer the best service, that is not true at all.
In my 15 years living in Bangkok, I have gone to two different local dental clinics that cater to mainly Thais. The dental work I have received there — teeth whitening, a root canal and a twice annual teeth cleaning — was not only some of the best dental work I have ever had (far better than my root canal at an expensive American dentist) but the cheapest as well.
Every one of my western friends living in Bangkok also go to local dentists, pay cheap prices and get exceptionally good dental work done.
Related: How to get cheap dental care in Bangkok, Thailand — Going to the dentist in Thailand is affordable?
So, how much can you expect to pay for laser teeth whitening in Bangkok?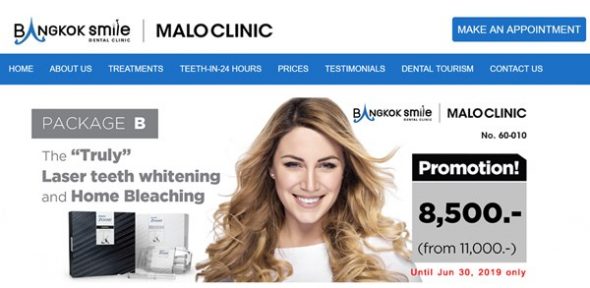 Bangkok Smile, one of the more popular higher-end Bangkok dental clinics is currently running a promotion for 7,500 baht ($241) for a laser teeth whitening package, or 8,500 baht ($274) for a teeth whitening package plus a home kit.
When I had my teeth laser whitened a few months ago, I paid less. Only 6,500 baht at my usual Thai dental clinic or approximately $209.
So, yes, you can get your teeth laser whitened in Bangkok for about 20 percent or less than you would pay at a typical American dental clinic.
As many Thai dentists are also trained in the west, and as Bangkok's dental clinics are clean, safe and kitted out with all the latest equipment, honestly, why would you ever have your teeth whitened in the U.S. when it is much cheaper and just as good in Bangkok?
Related: How to get an affordable face lift in Bangkok, Thailand