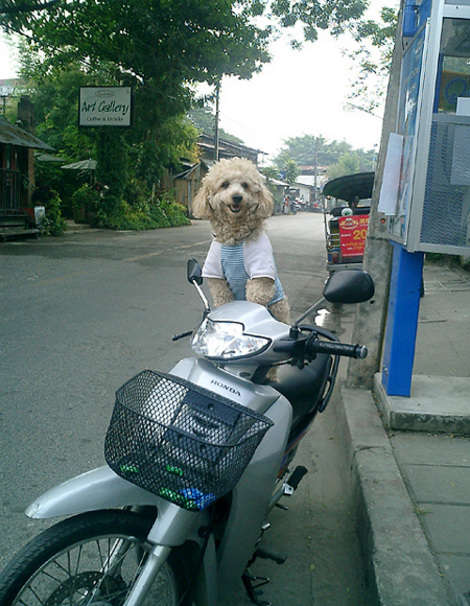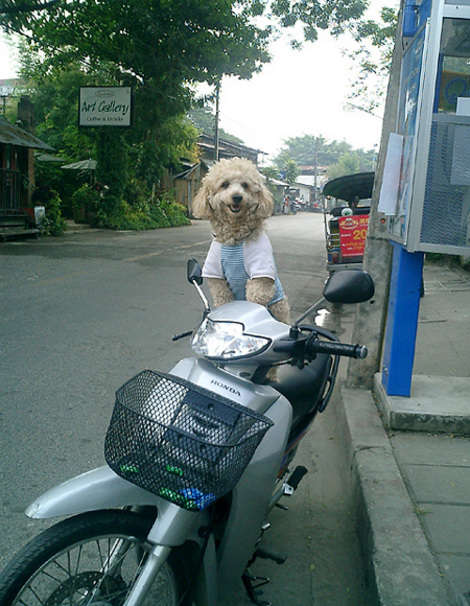 Thailand, unlike many other countries, is an easy country to bring a dog to. Some of my friends have brought dogs to Thailand, from the US, UK and Australia, with very few problems, and they've managed to take them home again too. If you're planning on going to Thailand for an extended period of time, or going to be living here permanently, and want to take your dog with you, just follow these quick how-to steps, and your beloved pet will have no problems coming too.
Get All Necessary Documents Before Leaving Your Country – At least a month before you're planning on leaving your own country, go to your vet to get the necessary documents to import your dog into Thailand. You will need to get a rabies vaccination certificate, showing your dog has had all his/her rabies shots. If your dog hasn't had vaccination shots, make sure the vaccination is given at least 21 days before you leave for Thailand, as Thai officials won't let your dog in the country before the 21 day period is up.
A second vaccination certificate should show that your dog has been vaccinated against Leptospirosis, Distemper, Hepatitis, and Parvovirus. Finally, you will also need a certificate of general health showing that, overall, your dog has no major health conditions, and an identity certificate showing the breed, color, age, sex and markings of the dog. While you're at the vets, also make sure you pick up any medications your dog may need as well as special shampoos, flea powders etc. You can get all these things in Thailand, but you won't want to be messing with them the first couple of weeks you're here.


Arrange For Shipment of Your Dog – If your dog is large, it will have to travel in the cargo hold. If it's smaller, most airlines will allow you to transport him/her in a dog carrier under your seat. A friend of mine did this recently, but she said it was a pain as she had to take the dog to the bathroom and try to get it to pee down the toilet. Don't forget, it's an 18 hour flight from the US to Thailand, and 12 hours from the UK, so you're probably better having your dog travel in a crate in the hold. I've done this on domestic flights within the US with no problems, and international flights are no different, just a lot longer.
Get Copy of Photo Page of Your Passport – When you pick up your dog at the Thai airport, you will be required to give a copy of the photo page of your passport to Thai officials. Make sure you have one with you, which will save time hunting around for a photocopy machine.
Pick Up Your Dog at Bangkok Airport – If flying in, your dog will arrive at Bangkok's Suvarnabhumi Airport. If the dog comes on the same flight as you, or if it comes a day or two later, you will still have to go to the Department of Livestock office in the cargo area that deals with the importation of live animals. Here, you will fill in the necessary paperwork to get your entry permit for the dog. Some people say this takes 24 hours and your dog will have to remain there until it's complete. A friend of mine however managed to get this certification in less than an hour, and was able to leave the airport with her dog only a couple of hours after arriving in Thailand.


Quarantine – On the form you complete at the cargo office, you'll see a section about where the dog will be quarantined. Quarantine for a dog in Thailand can be as simple as at home or a hotel and, on the form, you'll see a section to mark about quarantine saying "at home". Just check this box, and the dog will be released into your custody.


Check Up by Vet – At the airport, you will most likely also have to allow your dog to have a quick check-up by a vet. This takes about ten minutes and is just to ensure your dog doesn't show any signs of obvious illness. You will not have to pay for the check-up, it's free.


Import Duty Fees – Some people report having to pay import taxes on their dogs, other friends had no import taxes charged. At the cargo office, if you're unlucky enough to be told to go to pay the import fees, you will have to do so. If no-one tells you though, you're pretty much home free and can leave.
Don't forget, once you bring your dog to Thailand, Thailand is a country that has rabies. So be careful which dogs you let your own dog play with and, if it's bitten by another dog, immediately take it to a veterinarian.