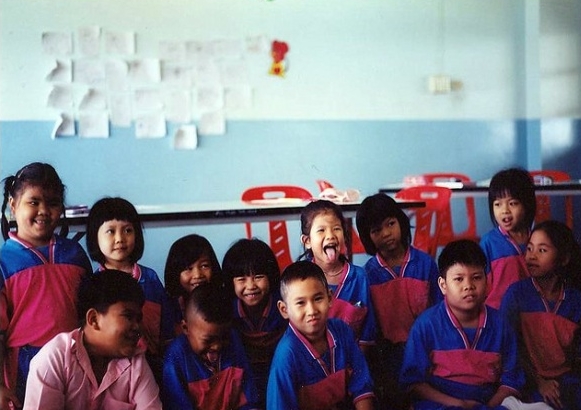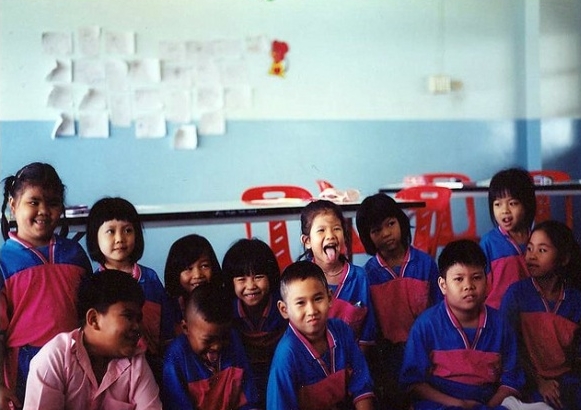 One of the things many parents worry about when they move to Bangkok, Thailand is getting their child in a good and safe pre-school or kindergarten. One thing I always remind every expat is that Thais love children and really take care of them, so many pre-schools and kindergartens are even better run than similar kindergartens in their home country.
There are many independent pre-schools and kindergartens in Thailand, as well as those that are attached to international schools. Most of my expat friends though, unless their company pays for education for their kids, just put their kids in a local independent pre-school.
The advantages to this are they're often closer to where they live, they're small so their child gets individual attention, they're cheap and their child will easily learn Thai (unlike international schools where English is usually the language used). But, if you're planning a move to Bangkok, Thailand or already here and looking for a pre-school or kindergarten for your child, read these quick tips and your kindergarten search should be even easier.
Staff at a Bangkok Kindergarten/Pre-School – When you're looking for a kindergarten or pre-school in Bangkok, make sure you check out the school carefully before you choose. Specifically look at the ratio of staff to children as you want to have your child getting enough attention from the teacher.
Does the staff speak any English or only Thai? (which is actually not a great concern for children under age 3-4. They pick a new language up so quickly, they'll be speaking Thai within a few weeks of joining a new kindergarten. In fact, the 3-year-old girl of one of my friends was speaking just about fluent Thai at a 3 year old level only three months after joining a new pre-school.)
Do the staff seem friendly and fun? Do they try to talk to your child when you take him or her to the new school? And use your gut feeling to decide if the person who's going to be with your child all day is trustworthy. Many of us already 'know' how someone really is, but in the heat of the moment will sometimes ignore warning signs. Don't. If there's any hint of something not being 'quite right', believe it.
Bangkok Kindergarten/Pre-School Programs – Make sure you find out what your child will be doing at the kindergarten/pre-school all day. Do they have clear goals for any programs they run? Are there enough toys, books, educational games that your child will always be busy and challenged? Do they offer music, art, language classes? Do they have a good place for your child to be able to run around, play on playground equipment, get some fresh air? Or is your child going to be cooped up in a room all day, in which case you need to consider another school for him/her.
How Good Are The Facilities at the Kindergarten/Pre-School – Is there a big enough play area for the children at the school (both inside and out?). Does it look safe? Bangkok is incredibly hot so make sure to find out how long your child is likely to spend outside every day and whether or not the play areas have shade. (Although as far as your child having problems with sun, Thais are obsessed with their kids not getting brown so your child is likely to be slathered in sunscreen from the minute he or she arrives at kindergarten).
How big are the classrooms? Does the bathroom and toilet area look clean and well taken care of? Some Thai-owned independent kindergartens will only have Thai-style bathroom facilities, but as long as they're clean this shouldn't be a problem.
Location of the Kindergarten/Pre-School – Is it near a busy road? Bangkok has a major problem with pollution so you don't want to have your child at a school that is next to a freeway. One of the international schools, RC International School Ruam Rudee Learning Center has an excellent reputation but I wouldn't send my child to that school simply because it's slap bang next to a major freeway with the traffic noise and pollution that comes along with it.
Does the area look safe? Make sure the school has child-locks on the doors and that gates are kept closed and locked during school hours. This not only keeps children from getting out but also undesirable people from getting in.
Food at the Kindergarten/Pre-School – Check out what food they serve at the school. Is it only Thai food or is there Western food available too? Does the food look like it's good quality and nutritious? What snacks will your child get? Are the children given milk or fruit juice? Thais actually tend to feed their kids really well, so you'll usually find your child will get breakfast, a snack, lunch and another snack and sometimes even food to bring home.
One of my friends used to pay only 2,800 a month (around $95) which included not only the kindergarten services but also two meals and three snacks every day.
What Time Does the Kindergarten Open and Close – Make sure you find out opening and closing hours. Thais are actually quite relaxed about time so, if you're late and have to pick up your child late, most of the time it won't be much of a problem as many of the kindergartens are used to having Thai parents arrive late.
As I mentioned, Bangkok traffic is always a problem so, if you're stuck in traffic, you don't want to have the added stress of imagining the kindergarten staff angry with you when you get there to pick up your child. Also find out if they have an after-hours program (some schools do) and also if they run the program all year round as some kindergartens and pre-schools in Bangkok do close for summer holidays.
Thai kindergartens and pre-schools are usually wonderful places for children. Your child will get a lot of attention, be made to feel loved, will be fed well (sometimes too well!) and will probably come out of the experience fluent in Thai.