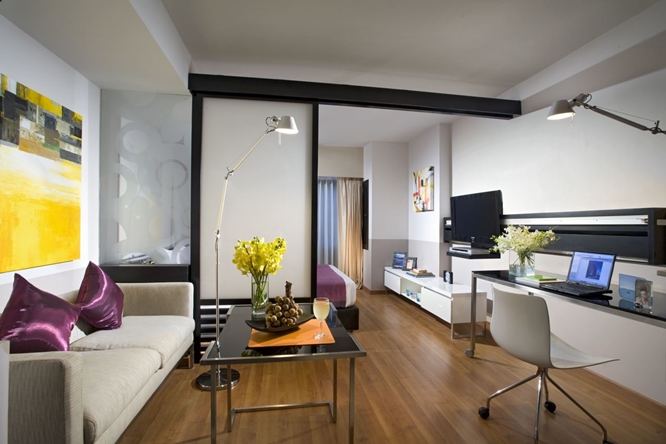 If you need to find an apartment in Bangkok, follow these quick tips
If you need to find an apartment in Bangkok, whether it's for a few months, a year or longer, it is usually prudent to wait until you get here before organizing a permanent place to stay. That is because many long-term hotels and apartment buildings will charge you more money if you book your apartment while you're still outside the country.
In fact, rule of thumb from most expats here is this – book a place for a short stay, just a few days up to a week, and plan on organizing a permanent place when you get here.
As for me, I moved to Bangkok in September, 2003, and booked a small apartment online for a month, while I was still in the USA. When I got here however, I found a nice apartment in Bangkok on the first day, so moved into it right away having spent less than 24 hours in Thailand. You may not be so lucky, so allow yourself at least a week to look.
There are many ways to find an apartment in Bangkok. Here are just a few.
Walking the Streets
A lot of my friends have found nice apartments in Bangkok, just by wandering down streets or sois (small lanes) that look interesting. They've usually decided which part of the city they want to live in first, then spent a morning walking down sois in that area and going into any apartment building they think look nice.
Thailand is very different than the US and Europe, in that most buildings have somebody in the reception area who can show you available apartments right away. They also usually have several to choose from.
So find an area in Bangkok that will be convenient for you (consider your job location, social life plans, how much time you're willing to spend in Bangkok's horrendous traffic etc) and check out the buildings in that area.
In most cases, my friends found an apartment the first day they looked. Don't however feel pressured to sign up for the first one you see. It will still be there if you go back in a few hours.
Do remember, though, there are some questions you should ask before renting an apartment in Bangkok and, if you do so, you are far more likely to be happy with your rental choice.
Internet Searches
There are many places you can search online for suitable apartments in Bangkok. Almost all of them are organized by:
Location
Size of Apartment
Price Range
Amenities
You can key in your exact specifications and get listings of available apartments, usually with photographs.
Be warned though, some of these apartment websites do not always update their sites often, so you can end up falling in love with an apartment somebody else has been living in for three months already.
They are also usually more expensive as the website owners are getting fees from the apartment management.
Another option when you attempt to find an apartment in Bangkok is to find the name of the building online first, then go to the building yourself and check the price. Often, they'll quote you a lower price than if you go armed with information from a website.
The Thai Friend Option
Many of the Western men who come here already have Thai girl friends or friends who are girls. Many of these women are fabulous if you want to find an apartment in Bangkok as they know the areas, they all have 300 friends, and they can usually get you a much cheaper price. However do be warned, some of them may be offered kickbacks from the apartment owners, so you may end up paying more than you would otherwise.
Also, many Thai women don't always understand the standard of room or apartment a lot of Westerners require. For me, for instance, I must have a Western-style bathroom. (Thai bathrooms don't have enclosed showers or baths, just a shower head in the wall that sprays all over the bathroom when you turn it on. In a Thai bathroom, you end up spending half your time paddling in an inch of water. I'm not that picky, but that's just not for me).
On my first day here, I had a Thai friend take me to several apartment buildings that were nice, but all of them had Thai bathrooms. When we finally met up with her boyfriend, my American friend, he knew exactly what apartment standard I wanted, and I literally had a nice Bangkok apartment rented, with a western-style bathroom, within an hour of meeting him.
Apartment Locators
Depending on your budget, there are many apartment locators in Bangkok. They can find you anything from a luxurious penthouse apartment, to an American style condo that will suit a family of eight. They don't usually bother with anyone though who wants a place for less than 35,000 baht a month.
This is around $990 and is very expensive for a Bangkok apartment, as most apartments cost between 8,000 and 15,000 a month (US $230 to $440) and are extremely nice.
For instance, I live in a serviced apartment with weekly maid service, TV, cable TV, good security, parking etc. for only 10,000 baht a month (US $285), and it's much nicer than what I was used to when I lived in Los Angeles.
However if you're looking for a place for your family, or a higher-end luxury apartment in downtown Bangkok, by all means use an apartment locator. They are highly knowledgeable of the area, and will usually only take you to the types of places you're interested in. Again, you will pay a higher price than if you looked at the same building yourself, but if you're paying $1,000 a month or more, chances are you're not concerned about that anyway.
Don't forget, all Thai apartment buildings require the first month's rent, plus two month's deposit before you can move in. So a $500 a month apartment will require $1,500 to be handed over when you sign the lease. Most people I know have had no problem getting the deposit back when they leave, but it's something to be aware of.
If you're a teacher too, here are a few tips that may help you find an apartment in Bangkok that you can actually afford on a teacher's salary.
So remember – don't be in too much of a rush to find a nice apartment in Bangkok to live in.
There are millions of apartments in Bangkok, from cheap one-room places starting at 3,000 baht ($85 a month) to the most luxurious place you can imagine, at a cost of thousands of dollars a month. The most important thing is make sure you actually visit the apartment you will be living in before signing a lease as, if it doesn't look the same as the one you saw online, Thai leases can be a pain to get out of.
Also, pay attention to how far the apartment is from a sky train or underground station. Bangkok traffic is terrible and, if you're miles away from public transportation that doesn't require a road, you could spend half your life on a bus or in a taxi.
Good luck and happy Bangkok apartment hunting!