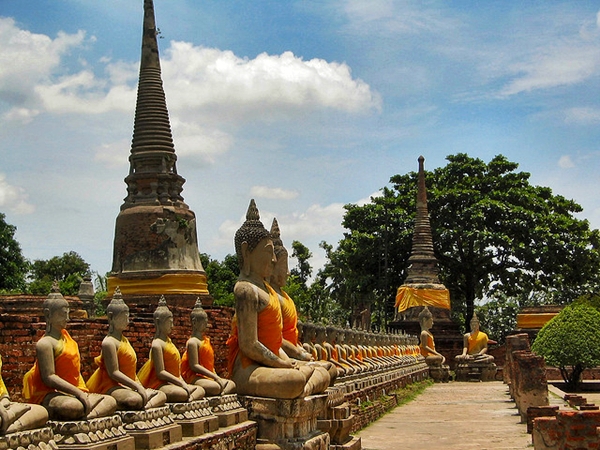 How to get to Ayutthaya from Bangkok
Ayutthaya, Thailand is famous for its UNESCO World Heritage Site, as well as for its cool town, river tours, Ancient Palace and the Thai Boat Museum.
It is also only an hour's travel time from Bangkok, easy to get to and, once there, easy to get around.
In fact, if you are looking for a fun day trip from Bangkok, I cannot recommend Ayutthaya more highly. It is a fun place to visit, and with a hassle-free journey to get there.
There are various ways to get to Ayutthaya from Bangkok, but these three are my favorites to recommend.
Travel to Ayutthaya from Bangkok by train
The easiest and cheapest way to get to Ayutthaya from Bangkok, and the one with the best views, is to take the train.
It is also nice to be able to walk around, and use the toilet if you need one, as it makes the journey that bit more pleasant.
To catch the train, go to Bangkok's Hualamphong Train Station and buy a ticket. Trains leave for Ayutthaya between every hour or every 30-45 minutes, depending on the time of day. So, if you miss one, you will not have long to wait for another.
Prices per ticket are between 18 and 30 baht each way if you take the third class carriage option. If you do not, you will pay from 250 to 400 baht, so a huge difference for just a bit of air conditioning.
As the windows are open too, the third-class non-air con carriage really is quite pleasant.
Once you arrive in Ayutthaya, you can either take a tuk-tuk into Ayutthaya for around 70 to 100 baht, or walk across the street, down a small alleyway and hop on the ferry.
At only 5 baht, the ferry is definitely your cheapest option.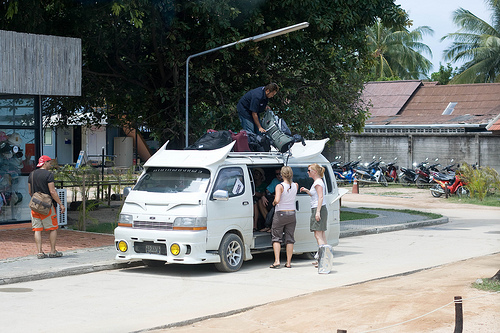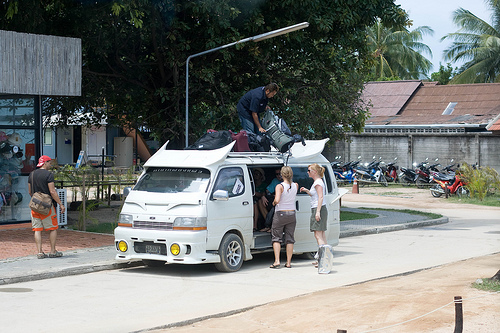 Travel to Ayutthaya by mini van from Mo Chit Northern Bus Station
Getting to Ayutthaya by mini van is also easy to do, although, with the speed the minibus drivers drive, this is my least preferred mode of transportation as it is simply less safe.
To get a mini van, take the BTS sky train to Mo Chit BTS station and then either a motorbike or a bus (bus numbers 3, 26, 77, 96, 104, 509) from there to the Mo Chit Northern Bus Station. It's just 5 minutes away, so it won't take you long.
Related: Best and most fun things to do on a trip to Ayutthaya, Thailand
Once at the bus station, hop on the first mini van you see. You will pay around 50 baht each way, and the trip takes an hour to an hour and a half depending on the traffic.
Once in Ayutthaya, make sure you get off at the last stop — Naresuan Road, as it is easiest to find your way around the city from there.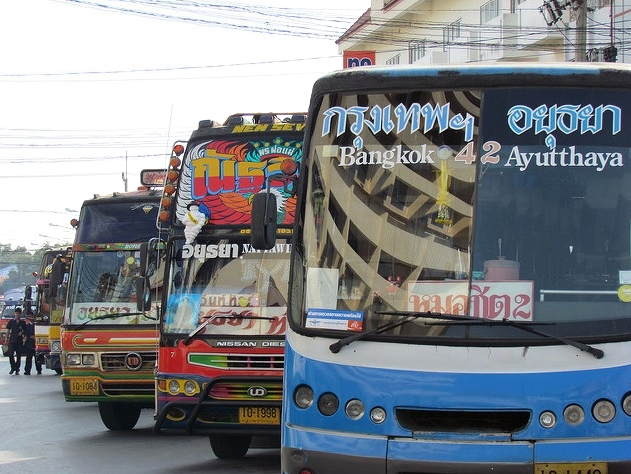 Travel to Ayutthaya from Bangkok by bus
You can also get to Ayutthaya from Bangkok by bus.
Again, take the BTS sky train to Mo Chit station and go to the Mo Chit Northern Bus Station. Buses from Bangkok to Ayutthaya go every 20-30 minutes, so no need to book a ticket in advance.
The cost per ticket is 56 baht and buses are air-conditioned. Grab some snacks and a drink at the station too, although some buses do serve them.
The trip to Ayutthaya itself is scheduled to take around an hour and 25 minutes, but usually takes longer as traffic can be quite bad.
Going back to Bangkok from Ayutthaya, you will need to get to the main bus station which is between Naresuan road and Horatannachai Road next to Chao Phrom Market. (see map below)
Just be sure you get there before 6pm, as that is when the last bus leaves back to Bangkok.
In most cases, if you want to get to Ayutthaya from Bangkok the fastest way, the train is usually the best option as you do not have to deal with traffic jams. If you ride in a third-class carriage, it is also the cheapest.