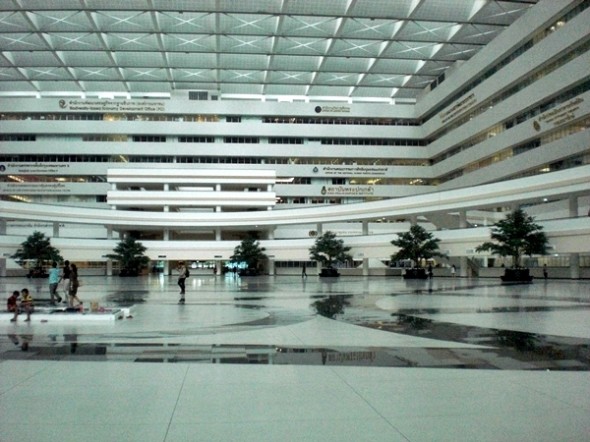 If you spend any length of time in Bangkok, Thailand, you will eventually need to go to the Cheang Wattana Immigration Center north of the city in order to get a new visa or extend an existing one.
If you have to file a 90-day report(find out how to do a 90-day report here), and elect not to do them online, the Bangkok immigration center is where you will do that too.
Getting to the Cheang Wattana Immigration Center, however, is not particularly simple. Not if you live in the city, and do not have a car.
Follow these directions, and how to get to the Cheang Wattana Immigration Center by skytrain, minivan or taxi suddenly becomes a lot easier.
Getting to the Cheang Wattana Immigration Center by skytrain or underground
You actually cannot get to the Immigration Center by skytrain. At least not yet, as the BTS skytrain line is still quite a few years from reaching that far outside the city.
That being said, you can take the BTS skytrain to the Mo Chit station, or the MRT underground train to the Chatuchak Park station. Once there, you can take a taxi to Cheang Wattana.
Travel time to Mo Chit depends on where you set out from, but in most cases will not be much longer than 20-25 minutes.
Travel time from Mo Chit to Cheang Wattana is around 20-30 minutes, depending on time of day and traffic.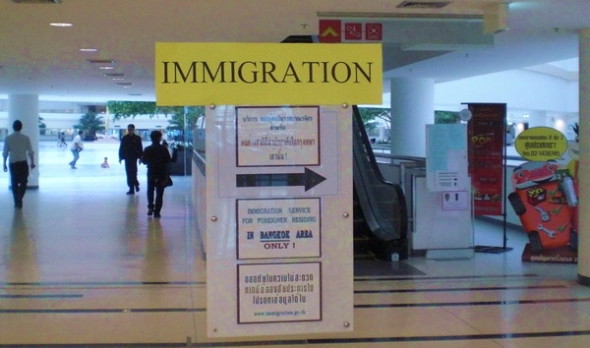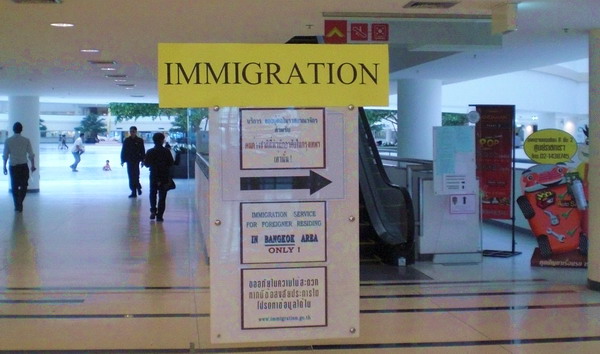 Getting to the Immigration Center by mini van
Taking a mini van is one of the easiest and cheapest ways to get to  Cheang Wattana,
Just look for a minivan leaving from the Chatuchak Park mini van area (next to the BTS skytrain station), and climb aboard. The journey takes between 25 to 35 minutes, depending on traffic, and costs 25 baht.
Look for the Thai signs —  ต10 "จตุจักร-ปากเกร็ด" — if there is not an English-language sign on any of the vans. Ask the driver "Cheang Wattana, mai?" just to be sure you have found the right one before climbing in. Pay as you get out.
Mini van rides to places like Cheang Wattana tend to be much safer than mini van rides outside the city, as they simply cannot get up enough speed to be dangerous due to Bangkok's traffic.
Getting to the Cheang Wattana Immigration Center by taxi or motorcycle taxi
Taking a taxi is the most expensive way to get to the Immigration Center, but certainly the most comfortable. You can grab a taxi at Mo Chit BTS skytrain station, with the ride costing about 100-120 baht depending on traffic.
You can also take a taxi from elsewhere in Bangkok but, if you do, it will be much more expensive and time-consuming, as you can get stuck in Bangkok's traffic for up to an hour depending on where you set off.
How to take a taxi in Bangkok, Thailand
There is also an option of a motorcycle taxi, if you do not mind the heat. I tend to use these more than any other mode of transportation, especially to Cheang Wattana, simply because they are faster due to being able to zip in and out of parked traffic.
Cost for a motorcycle taxi from Mo Chit to Cheang Wattana is usually 80 to 100 baht. Remember, these guys are technically not allowed to pick up passengers once they get to a destination so you are, in effect, paying for their round-trip.
How to safely take a motorcycle taxi in Thailand 
The Cheang Wattana Immigration Center is at:
120 Mu 3 Chaeng Watthana Soi 7, Thung Song Hong, Laksi
Opening Hours are: Mon-Fri 08:30–16:30.
**Be aware… there is a lunchbreak from 12:00 to 1pm, however, and yes, every counter in the Immigration Center closes for lunch. That is why it is recommended to get there at least an hour before 12:00pm. Otherwise, you will have a wait of an hour before you can speak to anyone.
If this does happen, there is an excellent and very cheap food court in the Chaeng Wattana basement where you can buy lunch, a snack or a drink, as well as many cafes and restaurants.