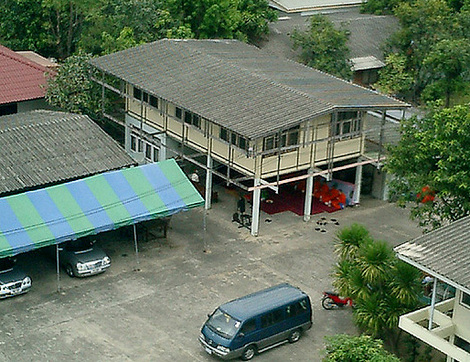 For Westerners, Moving to a New House or Apartment in Bangkok Can Seem Daunting and Difficult
I'm currently in the process of moving to a new apartment in Bangkok, Thailand. I've lived in my current apartment since I moved to Thailand, almost 14 years ago, so it was a bit daunting thinking about how I will move, what moving company to use and how expensive it's going to be.
Surprisingly, once I did some research, I discovered that moving to a new apartment, condominium or house in Bangkok is actually quite easy. There are several good moving companies in Bangkok and, unlike in the west, they're cheap.
If you're also planning on moving to a new house, apartment or condominium in Bangkok, check out the following tips and moving in Bangkok will be a lot easier.
Why You Should Use a Moving Company in Bangkok
Don't Do It Yourself– I know several westerners who have moved apartments or houses in Bangkok themselves. Too cheap to pay for a moving company, or unaware how cheap moving companies in Bangkok are, they've spent whole days going backwards and forwards in taxis lugging all their stuff with them.
A moving company in Bangkok will do everything for you including, for some of them, packing everything you own in boxes and crates and they're cheap. For around $100-150, you can get a lot of stuff moved, including washing machines, fridges etc.
For a very large truck load, prices might go up to $300 but, if it saves me packing all my stuff, lifting all my stuff and carting my stuff all over Bangkok in horrendous traffic, you can guarantee I'll pay it. You should too!
Insurance is Included with Moving Companies – If you move all your belongings yourself in Bangkok, in a taxi or a friends's car, insurance is not included. If a moving company does it for you, and something gets broken, their insurance company will pay for repairing or replacing it. Simple.
Moving Companies Usually Know Good Traffic Routes– Bangkok is a huge city. If you're moving to a new house, condominium or apartment and aren't sure of the best route to go, you could waste several hours sitting in traffic – really!
Moving companies do this every day, and know the city like the back of their hand. So, when it comes to sitting in traffic, they often know short cuts that you and I would never know of.
You could be sitting in your apartment enjoying a cup of coffee and unpacking all your stuff, or, still sitting in traffic in a taxi with a driver who really doesn't know where he's going. And, if you've taken taxis for any length of time in Bangkok, you'll know this is pretty much the norm, unfortunately.
You Won't Injure Yourself– If you hire a moving company to move you in Bangkok, they put their limbs and backs at risk, not you. I don't know how many people I've met who've put their backs out while moving apartments.
If a moving company does it for you, they're trained for it and there are several people involved. Why chance injuring yourself? Moving to a new apartment, condominum or house is stressful enough, without hurting yourself in the process.
Which Moving Companies To Use
JVK International Movers – One of the slightly more expensive moving companies in Bangkok, JVK International Movers will move you. Packages start with a couple of guys and a pick-up truck, which is fine for smaller apartment moves.
If you have a house to move or a large condominium in Bangkok, you're likely to pay quite a bit more but still not bad, and a fraction of the cost you would spend in the US or Europe on a moving service.
JVK International Movers will come to your home a few days before your move to assess your needs. Then, on moving day, they will arrive at your apartment, pack everything in wardrobe cartons, styrofoam, bubble wrap, cardboard etc. color code everything so they know where to put it in your new place. and haul it away for you. It will be delivered to your new apartment, and placed wherever you want it, so it's ready for you to unpack.
JVK are on Krungthep Kreetha Road in Bangkok, and you can call them at 662-379-4646.
Allied Pickfords – Allied Pickfords is in Bangkok and Pattaya with supervisors who speak English, as well as trained packers to help you move.
They're experts in both domestic and international residential moving, and will come and pack and crate all your personal effects and take them anywhere in Thailand you need to move to. If you cannot move in the same day as you move out, they also have storage space available for a small extra charge.
They're at 50/808 Moo 3 Soi La Salle 34, Sukhumvit 105, Bangna. Call them at 02-361-3961.
Omega Logistics – One of the cheaper moving companies in Bangkok is Omega Logistics, a company that moves business and personal effects for corporations, diplomats and US military personnel.
They have different sizes of truck load to choose from, starting at a very reasonable price. All their boxing, packing, lifting and moving services are included in the price of the truck as well as boxes, styrofoam, carpet pads etc.
Omega Logistics does both national and international moving and has English speaking staff to make your move easier. They're at 116/80-81 Nonsee Road, Chongnonsee, Bangkok. Call them at 02-295-2801.
Moving your home in Bangkok, Thailand doesn't have to be difficult, just follow these easy tips and choose a good moving or relocation company, and you should have few problems.