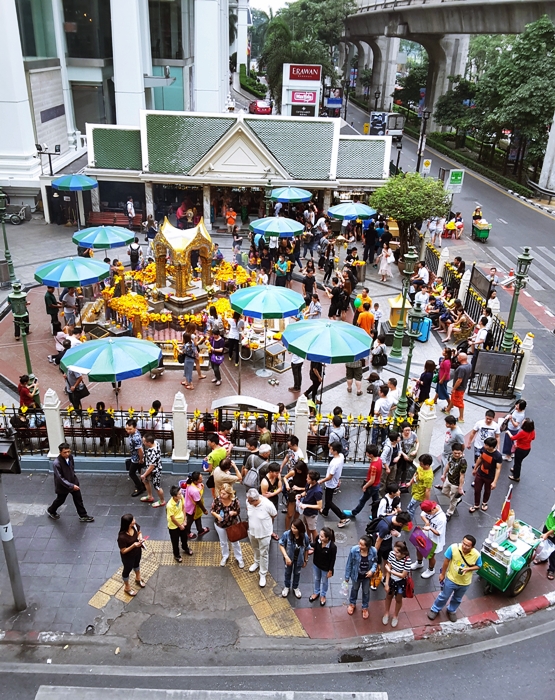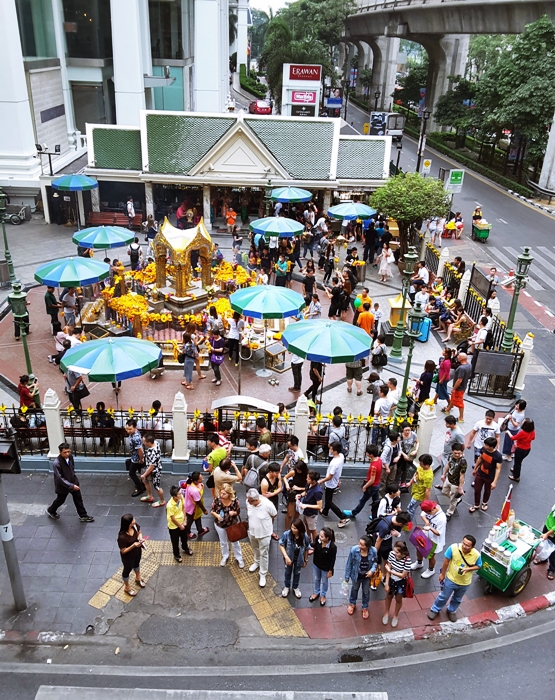 Fun ways to see Bangkok on less than $20 a day
Although Thailand is still a cheap country, things have become a lot more expensive in recent years. Bangkok, Thailand's capital city, is like most capital cities – tons of fun things to do and see, amazing museums, beautiful buildings, great shopping, delicious food – so it can get expensive. It is, however, still possible to see Bangkok on less than $20 a day. You just need to know where to go and what to do.
Besides, you'll actually see more of the real Thai culture this way.
Travel on Buses, the Sky Train and the Underground – Sure, taxis in Bangkok are cheap but, if you want to see Bangkok on less than $20 a day, taking public transportation is even cheaper.
The sky train and underground train systems in Bangkok are easy to use, cover half the city and are very affordable. You can go the full length of the BTS line for less than $2 and a couple of stops for $1. They're fun to travel on too as this is the mode of transportation Thais love the best – so a great place to people watch.
As for buses, they're even cheaper. As cheap as 30 cents a trip on non-air conditioned buses and 45 cents a trip on air conditioned ones, and many buses even have free Wi-Fi now too. Just get a bus map from any bookstore in Bangkok and follow the routes.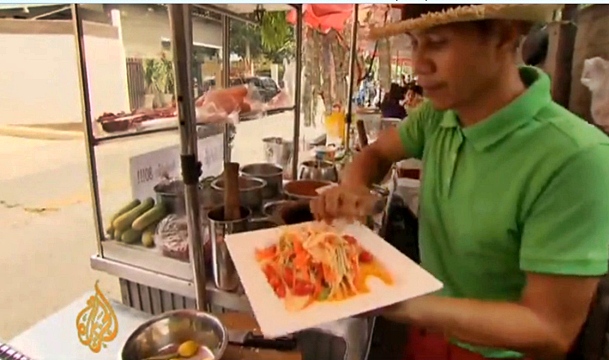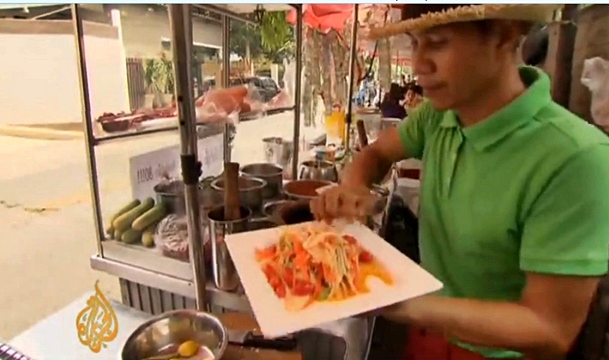 Eat at Street Stalls or Food Courts – An excellent way to see Bangkok on a budget yet still eat superb food is to eat at a street stall or food court. Street stalls are on every street in Bangkok, with little plastic stools and small tables you can sit at, order your food and watch it being cooked right in front of you.
A typical meal will be $1.50 for a bowl of rice and a topping like chicken, beef or pork and some veggies. I've eaten at street stalls all over Bangkok, and never gotten food poisoning so don't worry about that either. The food at the stalls is always fresh, unlike some restaurants where it can be stored for several days. And, if you're not sure what to eat at Bangkok streets stalls, here are a few suggestions.
Food courts are at all Bangkok shopping malls. You buy a card for 100 baht (around $3) at the ticket counter, and then go to one of around 15-50 food stalls and order your food. When the food is ready, hand over your card and the seller will deduct the cost of the food from the card. Do the same at the drinks and desserts stalls. Then enjoy the delicious food.
When you're sure you're finished and don't want anything else, return to the ticket counter and the clerk will refund the money you didn't spend. Again, the cost of a meal starts at $1.25 at most food courts and goes up to around $2 (but that's quite expensive for a food court meal), and the food is authentic and delicious Thai.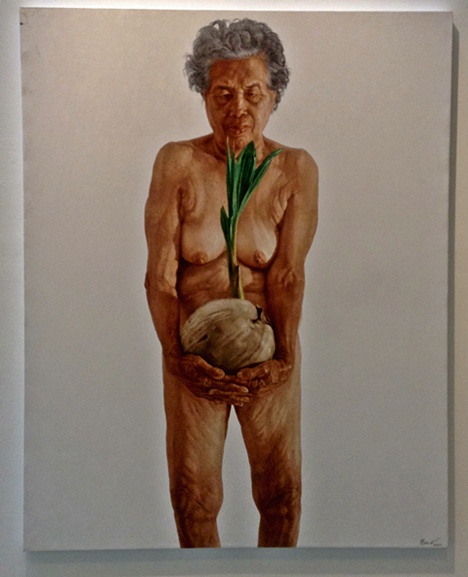 Visit Bangkok Art and Culture Center (BACC) – Bangkok' s art museum, the Bangkok Art and Culture Center, is right next to National Stadium sky train, so very easy to get to. Open just a few years, BACC has two floors of revolving art exhibits – both Thai and international. Exhibits are always interesting, and they change often, so you can visit every couple of weeks and always find something new.
There are also small exhibits of photos of the Thai king and queen, old newspaper articles about the royal family and a lot more about Thai culture.
What's also fun are the numerous little shops all around the walls of each floor, selling books, artwork, t shirts, handmade bags, art supplies – there are a couple of coffee shops, a fantastic tea shop and a few restaurants, so you can eat or have a coffee here too.
Very artsy-fartsy and full of Bangkok's artists, it's free admission and is open every day from 10am to 9pm, except Mondays. Just remember, they do usually make you check your bag into their bag check area, so be sure you are not carrying anything valuable with you that you would not want to lose.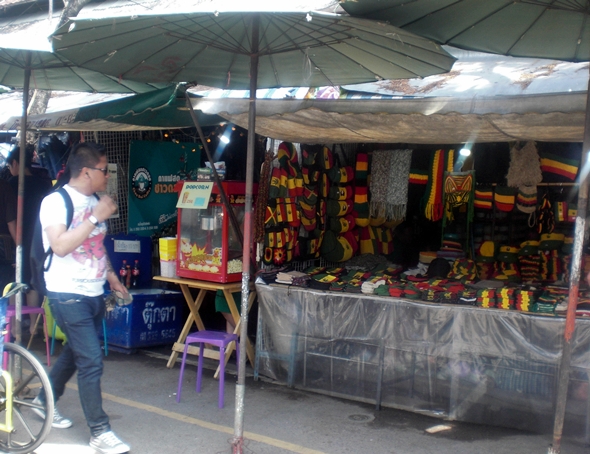 Shop at Chatuchak Weekend Market – If you want to see Bangkok on less than $20 a day, and still be able to shop, then Chatuchak Market is a must.
Held on Friday evenings, and all day Saturday and Sunday, Chatuchak Weekend Market is perfect for shopping on a budget. There are more than 15,000 stalls (I kid you not!) and they sell everything – handicrafts, artwork, Thai silk, shoes, clothes, jewelry, watches, household products, vases, ceramics, food, clocks – you name it, they have it and at prices one tenth of what you would pay in the west.
Chatuchak is also a wonderful place to eat lunch if you're on a budget, as there are food stalls everywhere and they're cheap. You can also get iced lattes, green tea and fruit shakes for just over $1, or even a beer for only $1.90.
Get to Chatuchak by taking the skytrain to Mo Chit station and following the crowd. It's open on Fridays from around 3pm to 7pm, and on weekends from 9am to 7pm.
Exercise for Free at Lumphini Park – Lumphini Park is Bangkok's largest city park and is right in the city center. Starting at 6am, before it gets hot, you'll see large groups of people doing yoga, practicing tai chi, doing aerobics and even muay thai moves.
Most of these groups will let you just add yourself onto them for a very small fee. They're fun, you'll stay in shape and you'll probably meet some new friends too. You can't beat it if you're trying to do Bangkok on less than $20 a day.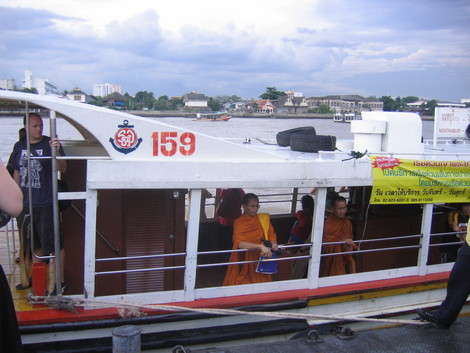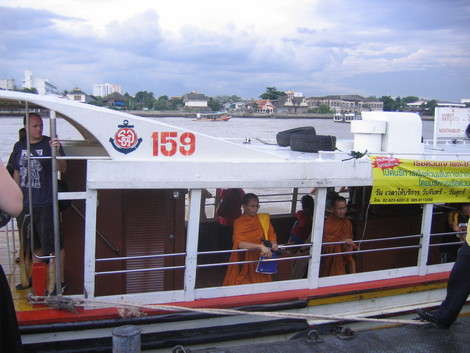 For the Real Thailand, Take a Boat Up the Chao Praya River – To see the real Thailand, you can't miss taking a boat up the Chao Praya River. Go to Saphan Taksin sky train station and walk to the river. Get on any boat heading north and, for less than 75 cents, you can go the whole length of the run that particular boat goes on, about an hour in total.
You'll see golden Thai temples, the Grand Palace, Wat Arun – the Temple of the Dawn, kids swimming in the river, barges coming all the way down from China loaded with goods, colorful long-tailed boats, traditional Thai houses on stilts, food stalls, monks waiting on the piers for the boat and much more.
I could travel up and down the Chao Praya all day and I'll bet you could too. And for less than 75 cents it's the best deal in Bangkok.
Even for a world-class city, it's still possible to see Bangkok on less than $20 a day. In fact, if you're careful, you can eat amazing Thai food, do some fun shopping, experience gorgeous Thai art, get some exercise and see real Thai life. So book your trip.