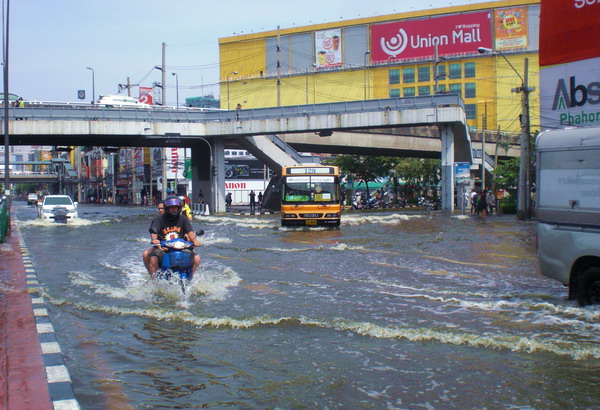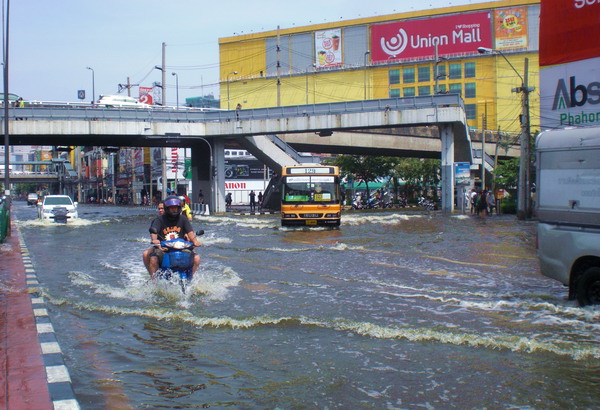 When I look outside the window of my Bangkok, Thailand apartment, all I see is water. Bangkok's massive floods hit my area of the city 10 days ago and, as of today, there's still almost two feet of water on every road and lane for four miles. Yes, I am a victim of Bangkok's worst floods in a century.
But, before you feel sorry for me, the poor American stuck in a flooded Asian city – don't. I live on the seventh floor of an apartment building, so flood water will never reach my belongings. We have electricity and running water, my air-conditioning works, my internet is fine, and I've enough food to last me three weeks.
Besides, for anything I need, it's just a wade through flooded streets to shop at the local supermarket. Yes, we walk through water to get out and, at the bottom of my street, army trucks pick us up to take us to work, bring us home or run any errands we need. So, no, don't feel sorry for me. My life is still pretty comfortable.
Hundreds of thousands of other people in Bangkok though, aren't as lucky. My Thai friend, Viraphan, a tour guide for an American company, lives in Rangsit, one of the first areas of Bangkok to flood. His house has been underwater for three weeks. When I say "underwater", I mean waist-high water that's up to the middle of his living room wall. He had to evacuate by boat, and can't go home until the waters recede.
Viraphan is from a poor Thai family and worked hard for 20 years to be able to buy a nice house. Like almost everyone else in Thailand, he can't afford flood insurance so, when the water disappears, he'll have to do the best he can to repair and rebuild.
A former co-worker, Komon, just bought a house with his wife in Bang Buatong. Bang Buatong flooded even before Rangsit did. When Komon heard his neighborhood was flooding, he drove the 45 kilometers from Bangkok to try to save belongings in his house.
The normally 30-minute drive took him five hours, as everyone else who lives in Bang Buatong was trying to get in to save property or out to escape. When he arrived at his home, it was already chest-deep underwater, and he had to swim through his kitchen to rescue belongings and put them on the second floor.
Komon then moved with his wife to temporary accommodation in northern Bangkok. That area flooded 10 days later, and they had to move again.
Khun Noi, a maid in my apartment building, is currently sleeping in a room on the first floor. She normally lives in a room on the ground floor of a building two doors down from me. While I'm dry in my seventh floor apartment, Khun Noi's tiny room is flooded with water higher than her bed. She's 55 years old, and everything she owns is in that room.
So, no, don't feel sorry for me.