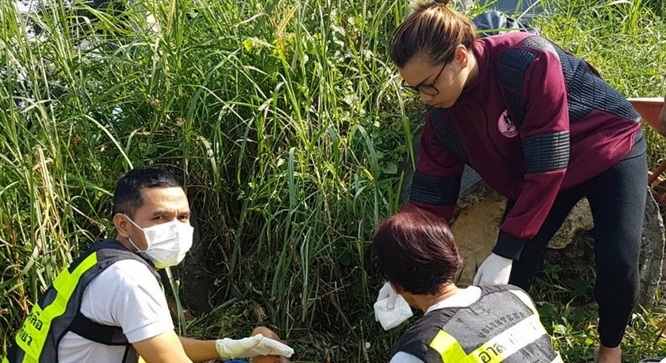 A 60-year old Italian tourist, named by Thai police as Giovanni Spatafora, has died near the Big Buddha viewpoint in Phuket, Thailand after falling off a motorbike.
According to Phuket police, Spatafora was a passenger on the bike that was descending the hill from the viewpoint when he fell off the bike and hit his head on a large concrete block that was lying by the roadside.
The Italian newspaper La Stampa that originally reported the accident said Mr. Spatafora was on the back of a motorbike taxi who's driver lost control of the bike as it went around a corner, skidding and causing Spatafora to fall and bang his head. He lost consciousness at the scene.
Thai emergency services were called and Spatafora was transported to Vachira Phuket Hospital, where he died of his head injuries just a few hours later.
Local Thai police are also reporting Mr. Spatafora was not wearing a motorbike helmet when the accident occurs.
And as tragic as Spatafora's death is, and yes it is tragic when someone still relatively young dies while doing nothing more than enjoying a holiday, it reminds me of a video I watched this week about the dangers of riding motorbikes in Thailand.
The video was shot by a vlogger based in northern Thailand for his excellent YouTube channel Graham & Pie. In it Graham, a motorbike rider himself, talks about tourists coming to Thailand and riding on Thai roads on motorbikes, often without wearing a helmet or the proper motorbike gear. Many are injured every year and some are killed
Thailand itself was also recently named the most dangerous place in the world to drive in due to the high number of road accident deaths every year — 22,356 in 2016 alone.
And, as Graham explains, a large number of these deaths are Thai locals, or foreign tourists who rent a motorbike or moped without ever having ridden one before or ever having had the training to do so, and who ride motorbikes or mopeds without a helmet.
Watch the video below for Graham's take on one of the reasons why Thailand's roads are so dangerous, especially when it comes to motorbikes.
A video that is definitely pertinent this week with the news of another foreign tourist killed while riding a motorbike on Thailand's roads.