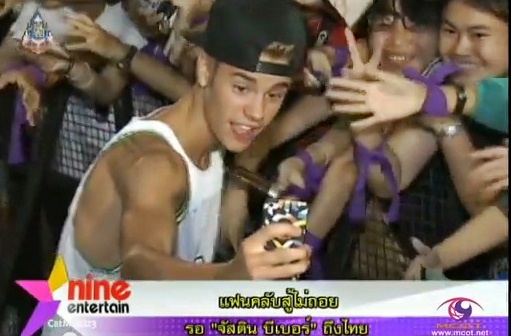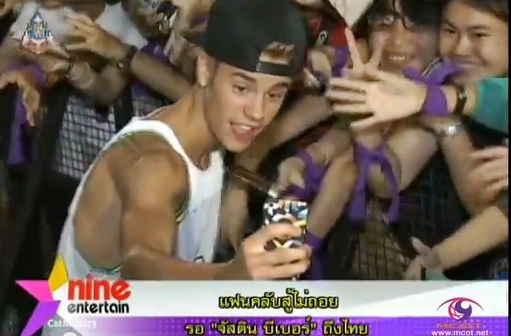 If you think Justin Bieber hysteria hasn't hit Thailand, then watch this video just posted to YouTube. Showing Justin Bieber in Bangkok as he arrived at Don Mueang airport around 1:30 am this morning, it's not the singer you can't take your eyes off it's the thousands of screaming and crying Thai girls who were absolutely besides themselves at finally being able to lay eyes on their idol.
Bieber came out of the airport surrounded by security and looking a little bit uncomfortable if the truth be known but, after initially stepping into a waiting mini van, he soon got out again and spent a few minutes walking up and down clutching Thai girl's hands or grabbing their cell phones and taking photographs of himself and them. And yes, the Thai girls went crazy,
Even if you don't understand any Thai, you have to be amazed by the strength of response he got from these Thai girls, many of whom had reportedly been waiting since early afternoon on Monday to be sure to be able to catch a glimpse of him.
Justin Beiber, of course, is in Bangkok for a concert on Thursday night at the Impact Challenger 3 arena in Muang Thong Thani, Bangkok. It's his first ever concert in Thailand, hence the hysteria.
By the way, tickets are still available to the Justin Bieber 'Believe' concert in Bangkok – which probably isn't that surprising considering the cheapest are 2,500 baht or $81, which is more than 8 days salary for your average Thai.
And don't even get me started on the highest price Justin Bieber Bangkok concert tickets — 6,500 baht or $210 — three weeks' salary for a working class Thai. Crazy, eh?
Meanwhile, if you have more money than sense, or your teenage daughter's begging is driving you nuts, you can still buy a Justin Bieber Bangkok concert ticket at ThaiTicket Major. I'll pass.