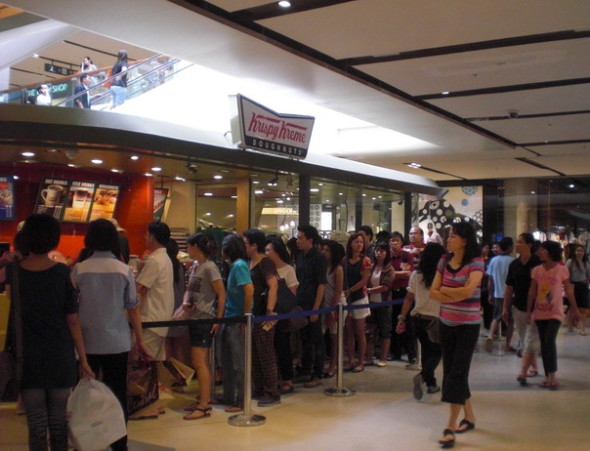 While I like donuts well enough, I am not a big fan of Krispy Kreme and certainly will not be buying them at Thailand's first ever Krispy Kreme store.
The new store opened today at Siam Paragon, with lines all the way down to the wat – that is how crazy Thais are about food!
The new Krispy Kreme store is owned by a Thai woman who's family owns half of Thailand's businesses — slight exaggeration, but she is mega-wealthy.
Not surprising really as apparently the franchise fee for Krispy Kreme is close to a million dollars, and she plans on opening 20 shops.
And sure, I like donuts like the rest of you, but they are just about the most unhealthy food you can eat.
With Thailand's younger generation getting increasingly fatter, and Thais eschewing their normal healthy food for boatloads of imported American junk food, here is one foreigner who won't be touching those things with a ten foot pole.
After all, if I do want a donut, I will be at my local Daddy Dough shop – owned by a Thai guy, and it's a Thai company – born here, bred here and expanding here.
Krispy Kreme. You can keep 'em.