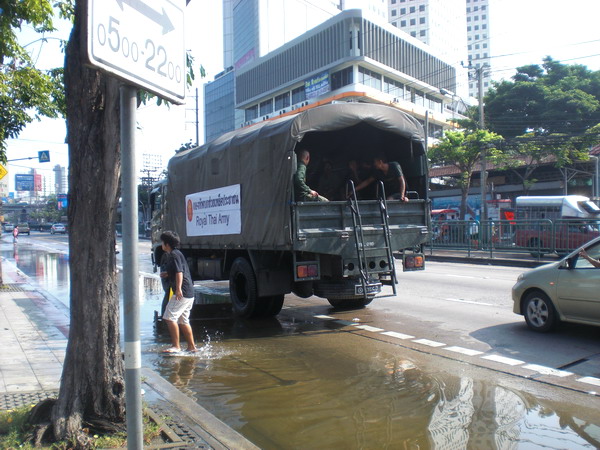 We took a stroll down our soi this morning to take photographs at the intersection of Pahonyothin and Ratchadapisek intersection in Bangkok, (our soi is two blocks away from the intersection) as we had heard it was completely flooded and that flood waters would be in our soi within the next few hours.
Oddly, even though Central Ladprao intersection in the other direction was also flooded, our area of Pahonyothin was still completely dry (but not for long, with water coming at us from three directions now).
It is now 1:45pm and our soi is just beginning to flood.
At the bottom of the soi, we have flood water probably 40 meters into the soi, at a depth of about 20 centimeters, but it is rising fast. From what has been announced by government officials, we should expect abot 50 centimeters on the entire length of the soi by the end of the day.
These photographs are of the Vibhavadi-Pahonyothin intersection at 9:45-10:00 am this morning.
Yes Mum, we're flooding.