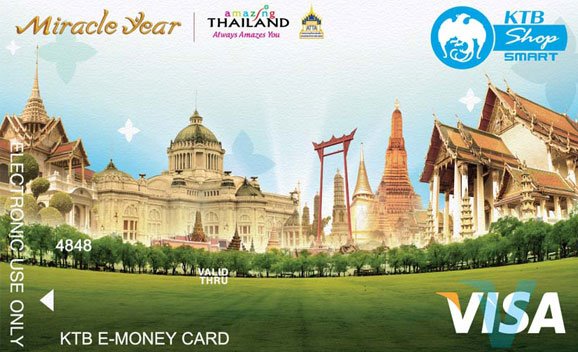 There's a new debit card available in Thailand just for tourists. Called the "Miracle Thailand Card" and issued as part of the Tourism Authority of Thailand (TAT) "Miracle Thailand" 2012 tourist promotional campaign, it sounds like it's a very cool idea, that any tourist would be crazy to pass up.
The "Miracle Thailand Card" is a debit card that has been issued in conjunction with Krung Thai Bank (one of my favorite Thai banks, I'll have you know), which you can buy at Suvarnabhumi Airport at the ATTA counter, or at any Krung Thai Bank Currency Exchange booth.
The card itself costs 100 baht ($3) and then you can add as much money to it as you like up to 30,000 baht (around $1,000). You can then use the card to shop at specific department stores, and to pay for admittance to some tourist spots. These include The Mall, Emporium, Siam Paragon, Paradise Park, MBK Center, King Power Duty Free, Siam Park, Siam Niramit, and Safari World.
The very cool thing with this card though is not only does it safeguard your cash from being lost or stolen (lose the card and simply contact Krung Thai to tell them and they'll cancel it for you), but it also comes with life and personal accident insurance – giving you up to 10,000 baht ($333) of outpatient treatment and up to 500,000 baht ($16,666) of inpatient treatment if you have an accident while on holiday in Thailand. And let me tell you, that kind of coverage gets you a lot of treatment at a Thai hospital.
If you are killed while on holiday in Thailand (let's hope that doesn't happen), the "Miracle Thailand Card" will also insure you up to 1 million baht ($33,333).
If you plan on spending a lot of money while on holiday in Thailand, you can keep adding money to the "Miracle Thailand Card" debit simply by visiting a Krung Thai Bank Currency Exchange booth (and they're all over downtown Bangkok).
Meanwhile, Krung Thai Bank is supposed to have information about the "Miracle Thailand Card" on their website, but in over 15 minutes of looking, I couldn't find it. I'd suggest checking the Krung Thai website and then contacting the bank via email if you want more information.