Neilson Hays Library book sale – Cheapest English books in Bangkok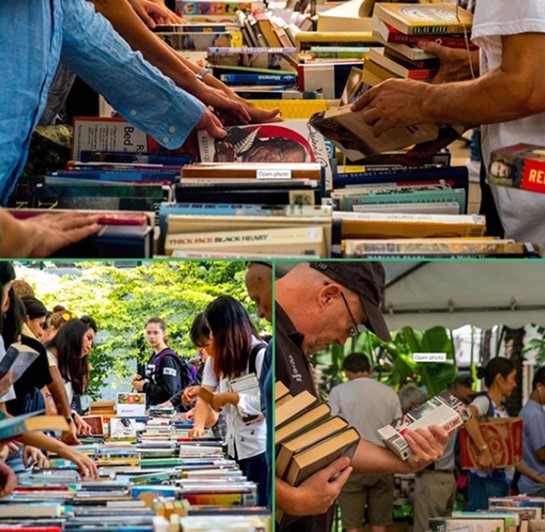 Neilson Hays Library book sale always has a superb collection of second-hand English books for sale
If you are looking for the cheapest English books in Bangkok, you cannot go wrong with the Neilson Hays Library book sale.
Taking place on Saturday and Sunday, November 2nd and 3rd, 2019 from 9:30 to 16:00, the  Neilson Hays Library book sale not only sells some of the cheapest English books in Bangkok, but they sell thousands of them as well.
Books that have been used in the library, of course, but also a slew of English books that have been donated by the general public in time for the popular book sale.
This sale happens twice a year in Bangkok, with November's book sale offering both fiction and non-fiction books for as low as 20 baht each.
If you haven't been before, the Neilson Hays Library is not too difficult to get to with a 12-minute walk from BTS Chong Nonsi station or a 14-minute walk from MRT Sam Yan station. (See map below).
You can, of course, also take a taxi from either place. And you may want to on the way back if you are carrying a ton of just-purchased books.
What is the Neilson Hays Library in Bangkok?
The Neilson Hays Library has been Bangkok's English-language library for 150 years.
It started out as the Bangkok Ladies' Library Association in 1869 — a private book-sharing group between a group of American and British women.
By 1919, however, not only had a large library of English books been amassed, the women running it had bought a plot of land so they could build a physical structure.
That is the building the Neilson Hays Library is still in today.
Nowadays, the library carries more than 20,000 books at any one time, with new books being added to the collection every month.
You can learn more about the history of the library on its website, watch a short video in Thai below, and check the map below for information as to how to get there for the Neilson Hays Library book sale next month.
If you love to read, and you like cheap books, you should definitely go. It is always worth it.
All proceeds from the sale go towards the upkeep of the library building.
How to get to the Neilson Hays Library book sale